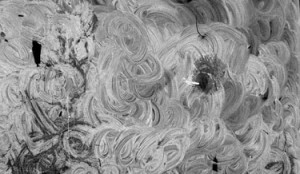 5 – 15 September 2009 The Old Ship Gallery:
This public house turned private home and public gallery sees three artists take over – the ambiguous yet idiosyncratic nature of the site providing a suitably shifting context for practices which seek to question readings of place and space. The site's comparative shabbiness also affords an opportunity for experimentation, with the artists making work which plays across physical and conceptual thresholds, making fixed readings both within and between the works difficult. Staged constructions and accumulations are presented that are inherently unstable and which speak of a presence presently absent.
Russell Chater: A fascination with the void pervades the artist's work, as does an often-recurring interest in staged and transitional spaces. Works collectively question the boundaries between the familiar and unfamiliar and explore spaces and states that are 'between' or 'beyond'.
Continuing his interest with shop window display, Chater presents a new series of works that further play with the staged and ambiguous nature of the spaces. Resulting pieces lie somewhere between minimalist art installation, empty stage set, designer interior and box of Christmas decorations. As such, the works nod to the dual nature of the space they're shown in – that is, part minimalist gallery, part kitsch interior. In his work 'Everything Must Go', meanwhile, Chater further draws on windows: Whitewashed windows speak of transience and evoke an abstract expressionist work. The religious triptych format further contributes to these 'painterly' and transient readings.
Helen Scalway: Scalway's work, often based in drawing, photography, collage and assemblage, seeks to create non-linear visual narratives. Resulting works are fluid and cannot be read or traversed within any single spatial system.
For this exhibition she is presenting work which exploits the richly layered environment of The Old Ship itself, in the form of kaleidoscopic photographic works which fragment and re-assemble the space in a re-visioning of its dense, seductive, elusive and unstable quality.
Richard Stone: Stone's work draws on domestic space and landscape, underpinned by concurrent interests in monumentality and the memento mori in art practice. The artist seeks poetic resonance through the use of related found objects or existing materials.
Stone presents a new series of works including 'not far from here'; bouquets in various decaying states entwined around the main pillar of the exhibition space without reference or markings, an evocation of temporary sites of loss and remembrance often marked by flowers. Two further works include 'the hanging'; Victorian picture chains suspended from an existing picture rail without what might have been their original loads, become redundant and empty of purpose in this setting and 'after'; a found painting, the surface and detail of which have been sanded away, an intervention perpetuated by process, the delicate dust and debris of which has been left to fall to the floor.
Categories
Tags