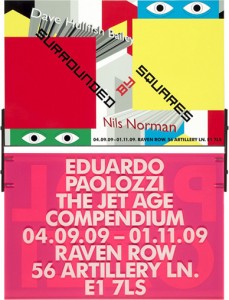 Thursday 3rd September, 6.30–8.30pm
4 September to 1 November 2009 Wednesday to Sunday 11am–6pm
This autumn, Raven Row will combine two exhibitions: commissioned work by Dave Hullfish Bailey and Nils Norman, and 'Eduardo Paolozzi: The Jet Age Compendium', which is curated by David Brittain and Four Corners Books.
Dave Hullfish Bailey and Nils Norman will each construct elaborate sculptural installations. Both will relate to education and ecology, design theory and the creative industries, as well as to the site of Raven Row. They will collaborate at points, overlapping their different approaches.
Dave Hullfish Bailey disorganises and reorganises information to propose alternative readings of places. For this project, he associates polygons extrapolated from the shapes used to map and halt London's cholera outbreak of 1854, with contemporary phenomena local to Spitalfields.
For his installation, Nils Norman has designed 'a prototype workspace for the creative classes'. He will create a hybrid object bringing together his research into playscapes, ecology and alternative education, and using amongst other things, aquatic filtering systems, a rocket oven and an arid garden.
'Eduardo Paolozzi: The Jet Age Compendium' presents Paolozzi's work for the art and literature magazine, Ambit, in the context of his other work from the late fifties to the early seventies. Paolozzi (1924–2005) is best known as a pioneer of British Pop Art, but his work for Ambit shows a more politically engaged side to the artist than has previously been acknowledged.
Recruited to Ambit in 1967 by the magazine's prose editor, J.G. Ballard, Paolozzi used the pages of the magazine as a space for collage, writing and visual essays. His works for Ambit tackle the war in Vietnam, the acceleration of technology, and the utopias of mass advertising. Other works on show will include bronzes, prints, and artists' scrapbooks, as well as a range of space age toys from the artist's collection.
Four Corners Books published a facsimile edition of Paolozzi's Ambit works in June 2009. The exhibition has been supported by The Eduardo Paolozzi Foundation, Offer Waterman Gallery and Manchester Metropolitan University, MIRIAD, as well as by Martin Bax, founder-editor of Ambit (www.ambitmagazine.co.uk).
www.ravenrow.org
Categories
Tags