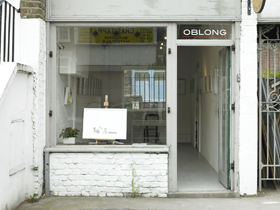 Ebony Andrews,Richard Ducker,Steven Gregory,Anna Kyriacou,Julian Opie,Jim Racine,Gareth Williams
4th-20th September 2009
In conjunction with Oblong's First year anniversary, Oblong presents 'First', an exhibition which brings together 7 established artists – Ebony Andrews, Richard Ducker, Stephen Gregory, Anna Kyriacou, Julian Opie, Jim Racine and Gareth Williams. The Show has been selected among the Top 5 Exhibitions as part of Time Out's First Thursdays.
This exhibition offers a rare opportunity to view the works within an approachable and intimate space.
Ebony Andrews examines the full spectrum of ways in which man employs the use of animals, and the ethical and political dilemmas attendant upon them through the traditional 'crafts' of taxidermy and animal preservation. She puts into question the public knowledge of the 'animal kingdom' by toying with the fictional (yet durable) framework of cultural animal stereotypes such as the agricultural 'working' animal and the institution of the domestic pet. Playing, both the observer and participant, creating a disorientating tableau of both uncompromisingly sombre and comical objects from whole or parts of real animals. Andrews will be exhibiting 'Footwear', 'Pheasant' and 'His Master's Voice'.
Richard Ducker makes sculptural objects coated in concrete that are at once sombre and humorous. He combines the found with the made object to suggest private stories embedded in works which 'evoke nostalgia, myths soaked in dreams, and fairy-tales gone wrong', and will be exhibiting, 'Governance'.
Stephen Gregory explores the complexities of life and death with wit and humour, adorning human bones and skulls with precious and semi-precious stones. He will be exhibiting one of his skulls, 'Midnight Rambler'.
Anna Kyriacou makes her seductively simple art-works look like the imagery we remember from our childhood. Yet her crude lines and unrestricted language invite us into a dialogue of dualities, taking us on a journey that both messes things up and harmonises dichotomies. Her work looks at what children do in a way that rejects and imultaneously observes the boundaries that adults often create when dealing with children and their representation. Anna approaches the subject of sexuality with sensitivity, entering a spiritual exploration, journeying through social and religious limitation and tapping into a wider and wiser universal consciousness. Anna does not claim that her work has 'the answer,' instead it offers us space to consider, remember and experience the intriguing world of childhood.
Julian Opie's work consists of photographic and film imagery, reduced to the simplest of representations, executed in 2-D, installation and sculptural media. Julian is probably best known for his generic portraits, which through their simplified features; exist eerily somewhere between cartoon images and portraiture. Influenced by Patrick Caulfield's simplified images of domesticity, Julian's uses his work to explore the boundaries between Fine Art and the everyday.
Jim Racine's work exists mainly as sculpture, drawing and etching within which subjects are varied, often hinging around a 'grand theme', including creation, entropy, beauty and death in a panhuman perspective. Seeking the intangible, folly, reflection and the exquisite cultural fetish… it is also highly personal. The artist strives to encapsulate physically an 'essence of sublimated civilization'. Most of the artists work is closer to painting in conception. This includes the glass cased sculpture works. These are based around a comparative human creative perspective which is evident in all cultures in all time, ahead of and before history. It all works around a 'majority theme' or central object or objects and plays them off each other, with the smaller field 'minorities' to build a composite work, reflecting off the glass to produce the environment where an innate lateral communication takes place.
Gareth Williams makes work about the world around him. A writer once told him that "you cant write real life" because people wouldnt believe it, and he guesses thats true. The more you look at things the stranger they become. Williams will be showing 'Joy to the world' and 'Scallywagger'. He will be making edible boiled sweets of the piece, 'Scallywagger' exclusively for the Private view.
Categories
Tags