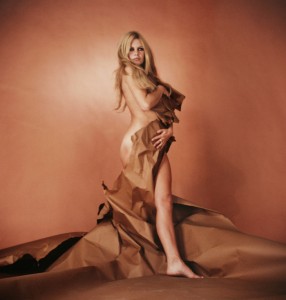 Brigitte Bardot Photographer: Sam Levin Date: unknown Description: Brigitte Bardot dressed in brown paper. Photographed by Sam Levin, one of the most celebrated fashion photographers of the period who is credited with helping create her public image.
Brigitte Bardot and the Original Paparazzi opens 3 September to 3 October at James Hyman Gallery, London, W1. It focuses on one of the great fashion icons of the twentieth century, and is presented at the same time as London Fashion Week (18-22 Sept) and coincides with Bardot's 75th birthday on 28th September.
The exhibition traces the development of a new genre of photography, showing how Bardot and the paparazzi created a whole new image of womanhood, female sexuality and youth fashion via a candid a photographic style that swiftly replaced the more controlled imagery produced by film studio publicity units.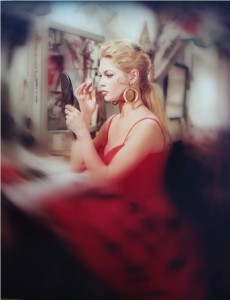 Brigitte Bardot Photographer: Roger Corbeau,c. 1958 Description: Brigitte Bardot with a mirror
The exhibition also times with the 50th anniversary of birth of paparazzi, and includes vintage prints by the most famous of all the paparazzi: Tazio Secchiaroli (1925 – 1998), the basis for Fellini's character in his seminal film La Dolce Vita (1959).
There are lots of beautiful and rarely seen prints in the show, including Bardot on the set of Godard's seminal film Le Mepris; chiming perfectly with Jean Paul Gaultier's current interest in the film and inspiration for his 2010 collection, to be modeled by Bardot lookalike Lara Stone at London Fashion Week.
Categories
Tags