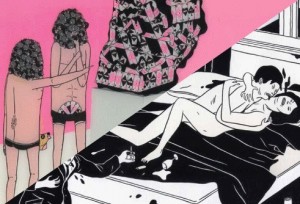 Monster Children Gallery presents THE MIRROR STAGE –
An Exhibition by KILL PIXIE / MARK WHALEN and CLEON PETERSON.
Exhibition continues from 21ST AUGUST – 17TH SEPTEMBER, 2009.
Two of the world's most exciting emerging artists – Australia's Kill Pixie and the USA's Cleon Peterson come together in August for the much anticipated two-man show at Monster Children Gallery.
Titled 'The Mirror Stage', the show commences on August 21 and will feature recent works by both of these sought after artists, who are all enjoying growing recognition and success.
After starting out as a graffiti artist on the streets of Sydney, Kill Pixie (Mark Whalen) is now enjoying sold out shows around the world and is renowned internationally. In his highly collectable works, he combines delicate line work with extraordinary use of colour through ink, watercolour and acrylic. In Kill Pixie's meticulous work, the viewer senses the indomitable spirits of creativity, humor and resistance, and the power of adaptation. Currently based in LA, Kill Pixie has just ended a sell out show at Los Angeles' Merry Karnowsky gallery. His work has featured in magazines and newspapers around the world from Vogue, ModArt, Artist Profile and Nylon to graphic art bibles Arkitip and Juxtapoz.
Cleon Peterson is a Los Angles-based artist who has exhibited extensively across the northern hemisphere, including shows at iconic galleries such as Deitch Projects in New York, White Walls in San Francisco and New Image Art in Los Angeles. His paintings depict a world in chaos, where violence is the status quo and ethics have been abandoned in favor of what every individual believes they are entitled to. Characters are shown committing random acts of violence – clashing figures which symbolise a struggle between power and submission. Peterson was recently invited to collaborate with Shepard Fairey on the 2009 Saks Fifth Avenue Project in New York.
Categories
Tags