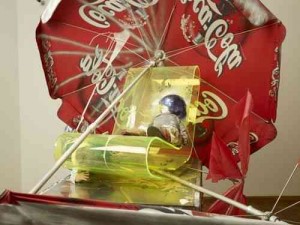 Isa Genzken, Kinder filmen III, Detail, 2005, verschiedene Materialien, Museum Ludwig, Köln, Foto: Lothar Schnepf, Köln, © Isa Genzken
Museum Ludwig 15 August – 15 November 2009
Following from its success at Whitechapel Gallery, London, where it received over 50,000 visitors, 'Isa Genzken. Sesam, öffne dich!' comes to Museum Ludwig. The exhibition spans early works from the 1970s to her remarkable installations of recent years, including 'Oil', her pavilion for the 2007 Venice Biennale, and 'Ground Zero', first shown at Hauser & Wirth in 2008.
In her works — a fusion of photography, paint, architecture and found objects — Genzken reflects the world in which we live and reveals the unstable, bewildering and contradictory sides of our existence.
Categories
Tags