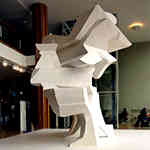 A New sculpture by artist Nick Hornby in collaboration with six young people will be exhibited in the Royal Festival Hall foyer. The sculpture was made as part of the Make Your Mind Up programme, a series of projects that sought to capture responses from different visitor groups to the Walking in My My Mind exhibition at the Hayward Gallery.
Award winning artist Nick Hornby who has previously exhibited at Tate Britain, challenged six young people from SE1 United – a Lambeth-based youth organisation – to collaborate to create one sculpture through a series of workshops and Gallery visits.
The name for the sculpture Walking in Our Mind is a twist on the title of the Hayward Gallery exhibition which the young people took inspiration. Walking in Our Mind is a single sculpture designed in six equal parts by six young people each with six separate voices, distinctive ideas, opinions, histories and cultures. The work explores whether it is possible to achieve a physical landscape of shared interest, a true collaborative object that relates back to all the individuals that contributed.
The work measures nearly four metres high and is made from laser cut polysterene and finished in plaster, the complex sculpture took two weeks to make at a set building company at Pinewood Film Studios.
Nick Hornby says
"This work reveals the result of six sculptures superimposed on top of one another taking away the differences and leaving only common ground. If one aim of sculpture is to coerce the viewer into wanting to walk around it to see the other side – with this one there are 12 completely different angles visible from the Foyer, the stairs, the lift, and at night lit up from across the road."
The exhibition is free of charge, open 10am – 11pm daily. Make Your Mind Up series also includes a new film Beauty an the Brain, and a sound installation Creatures Lost in Time check the website for details www.southbankcentre.co.uk.
About the artist:
NICK HORNBY Born 1980, lives and works in London. His recent exhibition at Tate Britain (The Ghost in the Machine, Feb-Apr 2009) was part of the Altermodern. Prizes include: RBS Bursary 2009, Mark Tanner 2009 Nomination, Clifford Chance Sculpture Prize 2008, and BlindArt Prize in 2005. Public commissions include Tell Tale Heart, Camley Street Natural Park. Group shows include Kay Saatchi's Anticipation, and He has exhibited previously in Tate Britain, and performed in the Hayward Gallery, the ICA, and Whitechapel Art Gallery. He was recently described by ES magazine as the "New Gormley," in 2008 he was Time Out's "London's Got Talent." He is represented by Alexia Goethe Gallery. For more information www.nickhornby.org.uk
Categories
Tags