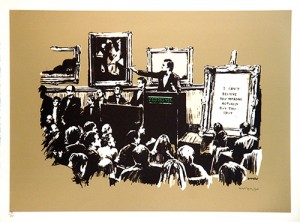 artnet Auctions recent Urban Art Sale demonstrated the continued demand for urban and street art. Eighty-five artworks by 40 artists were sold in the online auction July 7-23. The sale traced the evolution of urban art from the 1970s to today featuring artworks from virtually every major Urban and Street artist including Banksy, CRASH (John Matos), Keith Haring, LA II (Angel Ortiz), and Shepard Fairey.
Spirited Bidding for Original Works by American Graffiti Artists
Original artworks by American graffiti artists CRASH (John Matos) and LA II (Angel Ortiz) attracted spirited bidding, realizing sold prices well above their low estimates. Five works by CRASH found buyers, including an untitled 1983 work on paper which realized $1,540 – 53% above the estimate of $800-1,200. Two works by LA II from the 1980s sparked frenzied bidding. The first, a work on paper executed in black marker on a red acrylic background realized $2,314, 75% above the estimate of $800-1,000. The second, a mixed media work in silver marker on a black background, sold for $1,925 – 70% above the estimate of $700-$900.
Continued demand for Banksy and Shepard Fairey
The sale also showed continued demand for works by contemporary sensations Banksy and Shepard Fairey. Five signed Banksy prints found buyers, including Morons (Sepia), 2007 which realized $7,700 against an estimate of $7,000-9,000 and Jack & Jill (Police Kids), 2005 which sold for $7,040 against an estimate of $6,000-7,000. Works by Shepard Fairey also attracted fierce bidding with 15 lots sold. Among them, Rose Girl, 2008 realized $1,458, 72% above the estimate of $500-700 and Israel/Palestine, 2009 sold for $990, 66% above the estimate of $400-600.
Global Interest in Urban Art
The sale also demonstrated continued international interest in Urban Art. From July 7-23, artnet Auctions received over 45,000 daily unique visitors from over 100 countries including 37,000 first time visitors to the site. While the auction featured a number of works by American artists, only 50% of buyers in the sale came from North America. A full 50% of buyers came from 17 different countries in Asia, Europe, Latin America and the Middle East.
"We are delighted with the results of artnet's Urban Art auction" said Hans Neuendorf, CEO of artnet AG. "artnet Auctions reaches a large international audience with great curiosity and wide ranging interests. It is clear from this sale that collectors worldwide are embracing online auctions."
Visit artnet Auctions at www.artnetauctions.com
Categories
Tags