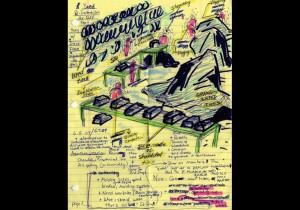 Sketches by William Pope.L for 'Yard Reinvention' at Hauser & Wirth New York.
By the late 1950s, American painter Allan Kaprow — formally trained in the era of Abstract Expressionism — began to view the action of Action Painting as far more important than painting itself. With the 1959 work Eighteen Happenings in Six Parts, a series of seemingly random but carefully choreographed activities executed with such friends as composer John Cage and artist Robert Rauschenberg, he embarked upon a career of intellectually rigorous site-specific, impermanent works that defied commoditization and ultimately gave birth to performance and installation art. The inventor of Happenings and Environments, Kaprow joyously incorporated improvisation and public participation within and beyond the traditional museum and gallery context. "Life is much more interesting than art," he wrote. "The line between art and life should be kept as fluid, and perhaps indistinct, as possible."
Fifty years later and in celebration of the opening of its first American gallery, Hauser & Wirth will present Allan Kaprow's seminal Environment Yard, an enduringly influential work — a veritable mountain of black rubber auto tires and tarpaperwrapped forms through which visitors jumped and crawled — first made by the artist in 1961 and radically reinterpreted in other locations eight times before his death in 2006. Opening to the public on September 23, 2009, the exhibition 'Allan Kaprow YARD' will present a dramatic, sprawling reinvention of Yard by prominent performance artist and interventionist William Pope.L at the site of the work's original creation: the Manhattan townhouse at 32 East 69th Street, then home to the legendary Martha Jackson Gallery and soon the address of the new Hauser & Wirth New York gallery.
On view through October 31, 2009 'Allan Kaprow YARD' also includes noted artists Josiah McElheny and Sharon Hayes, each of whom will create their own unique reinventions of Yard at public sites in downtown Manhattan and Queens, making the exhibition a larger New York City Happening in the true spirit of Allan Kaprow.
All of Allan Kaprow's Environments and Happenings were conceived so that they could also be realized by other people at other times and in different locations via "reinvention, not reenactment." Addressing the ephemeral and aesthetically mutable nature of his work, Kaprow wrote, "If a work is of value it will stimulate the creation of related works later on, thus the tradition will stay alive this way."
Guided by this philosophy, curator Helen Molesworth has identified William Pope.L, Josiah McElheny, and Sharon Hayes as three artists whose points of view equip them uniquely to follow Kaprow's meticulously worded and deceptively simple set of master instructions for all future presentation of his work: "Look at the documentation. Reinvent the pieces."
"Kaprow's Environments and Happenings are like musical scores or great plays that will now and forever be conducted and played by others," Molesworth explains. "For 'Allan Kaprow YARD', we wanted to commission artists who would be sensitive to the complicated issues involved in reinventing another artist's work. Each of the three participants has an unmistakable individual voice and strong identity, but each is also a generous and open-minded thinker."
William Pope.L will reinvent Yard within the walls of Hauser & Wirth New York on the Upper East Side, building upon the literal and symbolic blackness of the work's defining rubber tires and tarpaper forms. "What struck me in looking at the first version of Yard was Kaprow's playful impetus," Pope.L explains. "His invitation for people to touch the tires, move them around, climb into them was an end in itself, art for art's sake, essentially upbeat. I'm looking at the more harrowing side of the work, the unsaid, unmentioned and less decipherable aspects that are embedded within it but felt. The black rubber, for example, and its industrial legacy, its smell, its density, its effect upon the eco-system, and the associations these things provoke, all resonate in the world we know today. I'm interested in what materials call up from life."
Filling the entire first floor of the gallery, Pope.L's reinvention of Yard will comprise an enveloping interactive landscape of tires rising, falling and rising again; gleaming, stacked body bags; mirrors and continually shifting light effects; and a soundscape composed of lapping waves, distant train whistles, and a voice evoking the cadences of Barack Obama, reading a poetic and politically-inflected text that re-contextualizes Kaprow's own instructions to "rearrange the tires."
Regarding his reinvention, Pope.L said: "For Kaprow, with Yard in 1961 the notion of moving the tires was the end in itself. Visitors moved the tires and didn't ask why. Today people will ask why and I'm interested in answering that question with my version. I'm interested here in a sense of loss and art as a means of representing loss within the social fabric — within the layers of our lived lives — and the loss that comes out of lack."
William Pope.L went to Rutgers, where Allan Kaprow taught. He is an inheritor of the late artist's lineage, known for a highly original blend of installation, instigation and performance. He is represented by Mitchell-Innes & Nash, New York.
New York City-based artist Sharon Hayes works in performance, video, and installation, creating situations that expose dramatic frictions between collective activities and personal actions. For 'Allan Kaprow YARD', she will stage her own reinvention of Yard outdoors in the New York Marble Cemetery, the city's oldest non-sectarian burial ground, located in the East Village at 41 ½ Second Avenue. Hayes' work tackles the problems of restaging historical events and explores the often mutable boundaries between history, memory, and performance — the delicate issues implied by keeping historical events, including another artist's past Happenings, alive in the present. Sharon Hayes is represented by Tanya Leighton Gallery, Berlin.
Influenced by the writings of Jorge Luis Borges, Brooklyn-based artist Josiah McElheny is engaged in what he describes as 'historical fiction,' which he invites viewers to believe — or question — through sculptural installations. His primary Sketches by William Pope.L for 'Yard Reinvention' at Hauser & Wirth New York medium is glass, a material ideally aligned with McElheny's interest in storytelling, since glassmaking is part of a centuries-old oral tradition handed down from generation to generation, artisan to artisan, in a perfect parallel to performance art and Happenings. For 'Allan Kaprow YARD', McElheney will create a new rendition of the original work in a public location in Queens where participation and interactivity are guaranteed by a constant oscillation of the public. Regarding his participation in the exhibition, Molesworth explains, "Josiah McElheny's work always functions at the frontier between sculpture and installation, just as Kaprow's work does. He is interested in the way everyday objects contain and move history." Josiah McElheney is represented by Andrea Rosen Gallery, New York.
Summarizing her approach to 'Allan Kaprow YARD', Molesworth commented: "Allan Kaprow's legacy is enormous and is seen across the territory of artmaking today, from the predominance of installation art and performance, to the idea that the artist is a person who is given the permission to be questioning and playful. And that essential part of art's role in the world — to extend those qualities of playfulness, questioning, and curiosity into the larger social fabric of our daily lives — was Kaprow's discovery and achievement."
Categories
Tags