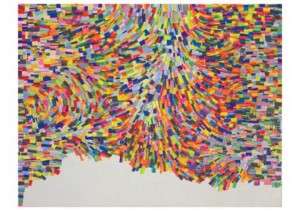 Paintings in Hospitals is hosting its fifth annual summer exhibition, '50 years in the Making', at the Menier Gallery between 22 July – 6 August 2009, admission is free.
This exhibition will feature a selection of works from the extensive and prestigious collection of Paintings in Hospitals, who celebrate their 50th anniversary this year. The show aims to highlight the importance of art in improving healthcare environments for patients, staff and visitors and the evolving role the charity has played in providing this since its foundation.
Featuring works by artists including Mary Fedden, Roger de Gray, Bridget Riley and Richard Long, the exhibition will contrast a selection of key works from the first forty years of the collection with the some of the most exciting acquisitions of the last decade. It will also showcase new developments within the charity's services, including the Prints for Hospices, Touring Exhibitions and Children's Loan scheme.
On the opening evening, the charity's current director, Stuart Davies, will give a talk on the development of Paintings in Hospitals within the wider context of arts in health, in order to highlight its long and fascinating history as well as its ongoing relevance to patient well-being and clinical outcomes today. This will be followed by a talk from Sophie Dodds, curator for the London and Southern Regions branch of the charity, who will draw on works in the show to explain the structure of the collection and the role of artists, curators and collectors in its development.
The second private view will feature a talk from Frank Kiely, an artist currently based in Bankside, whose work will be featured in the show. Frank will speak from a personal perspective about why his time spent in Hospital during the birth of his son convinced him of the importance of the charity's work.
Quotations
"I am a Police Officer serving in North Wales. My job regularly takes me to Ysbyty Glan Clwyd. Over the years I have had to tell a couple that their 16 year old daughter was dead, guard violent prisoners and deal with victims of violent crime. All the while ensuring that my emotions do not get in the way of the job in hand.
There is a picture in A&E called "Beach Scene" loaned by your organisation. It takes me to a different place – I thought you should know that your work doesn't only help the ill get better – it helps the well stay well."
Anon. Letter sent to Paintings in Hospitals
"I have recently seen a Neil Canning image called 'Float' in St. Georges Hospital, London. It is the final image in a four part series. It has been a great encouragement and inspiration to my mother-in-law as we have visited her husband in hospital during his final days with us."
St Georges Hospital, London.
"The pictures have been inspirational and made the corridors a much more social space with patients, visitors and staff stopping to look, read and talk about them."
Mile End Hospital
'The artworks are lovely, sweet. Having artworks in hospital is a very good idea, it makes people feel more comfortable and lively. One of the most welcome ideas.'
Initial Supervisor Domestic and Porter – East Dulwich Hospital.
'They could be sad when they arrive, the picture grabs their attention and diverts from the patients pain and other problems they may have. Then they will come to see us with a smile.'
Phlebotomist – East Dulwich Hospital
Details
'Paintings in Hospitals: 50 years in the Making' at the Menier Gallery, Menier Chocolate Factory, 51 Southwark Street, London, SE1 1RU
Exhibition dates: Wednesday 22 July – Thursday 13 August Opening hours: 10am – 6pm daily, excluding Sundays
Admission: Free

www.paintingsinhospitals.org.uk www.frankkiely.com
Curator for London and the Southern Regions, Sophie Dodds
Paintings in Hospitals
Paintings in Hospitals (PiH) is a national charity dedicated to providing original works of art on loan to NHS hospitals, hospices and other healthcare facilities to help improve the healthcare environment for the benefit of patients, staff and visitors.
Founded in 1959, the charity is the oldest national organisation working within the field of arts in health and provides a significant benefit to the many millions of people who come into contact with its work each year.
Since its foundation PiH has been developing a series of specialised arts in health services to meet the changing needs of the healthcare sector and the British public. The collection, PiH's primary service, contains over 4,500 items, including photographs, textiles and collages as well as drawings, watercolours and oil paintings. The collection, which continues to grow, is currently on displayed in over 250 healthcare facilities across the country.
Categories
Tags