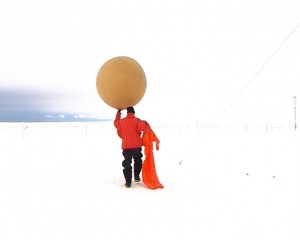 The Gallery at BFI 17 July- 6 September 2009
Gravity Sucks brings together, for the first time, works representing all of Simon Faithfull's quixotic attempts to escape the earth's gravity. Faithfull's Escape Vehicles document seven experiments using balloons, insects and rockets to offer the viewer the idea of escaping 'G'. The early vehicles are heroic failures – rocket chairs explode, flies fail to buzz, and things stay on the ground. Alarmingly, as the series progresses the experiments begin to succeed, until Escape Vehicle no.6 follows the journey of a chair as it travels up into the heavens beneath a weather balloon. This melancholic work transports the viewer to an uninhabitable realm where breathing is impossible and the sky resembles the blackness of space. Gravity Sucks opens at BFI Southbank Gallery on 17 July and runs until 20 September 2009.
About Simon Faithfull
Simon Faithfull has exhibited in numerous exhibitions both in the UK and internationally. Born in 1966, he trained at Reading University and Central St Martins School of Art. He lives in Berlin and London. More details at www.simonfaithfull.org
Gravity Sucks is part of the One Giant Leap season, celebrating the 40th anniversary of the moon landings, which runs at BFI Southbank throughout July 2009.
About Mark Westall