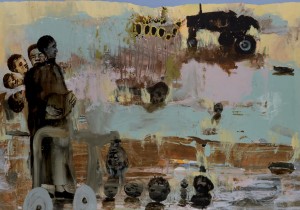 A Farm in Zimbabwe by Beezy Bailey (2009). Estimate: £6,000-8,000. Photo: Africa Foundation/Sotheby's.
Marlene Dumas, William Kentridge, David Goldblatt, Tracey Emin, Marc Quinn, Antony Gormley and Yinka Shonibare are among the artists who have donated works to Art For Africa, a unique auction presenting for the first time such a major offering of works by some of South Africa's leading artists alongside pieces by some of the foremost contemporary artists from the UK, which will be held at Sotheby's London on Monday, September 21, 2009.
The auction, which is set to include a painting created by David Bowie in collaboration with the South African artist Beezy Bailey, is the brainchild of Beezy Bailey and philanthropists Tara and Jessica Getty and will benefit two charities which fund and facilitate the care and support of orphaned and vulnerable children, the Africa Foundation and Ikamva Labantu.
Tara Getty, Trustee for the Africa Foundation, says: "Jessica and I are passionate about Africa Foundation's successful and sustainable projects in healthcare, and people development. For almost 15 years, we have had the privilege of witnessing many inspiring examples of human achievement amongst the rural people of Africa. Through Africa Foundation we will continue to provide support to extraordinary individuals, their vibrant families and communities. Many children and their extended families who are afflicted by AIDS and HIV will benefit directly as a result of the generosity of the artists' and sponsors."
Oliver Barker, Senior International Specialist, Contemporary Art and Auctioneer at Sotheby's, said: "We are excited to be holding the very first auction of contemporary art to present such a major offering of South African art alongside works by British artists at Sotheby's. The auction promises to be one of the highlights of the year. We expect interest from many prominent contemporary art collectors and philanthropists and we hope to raise a great deal of money for these deserving charities as a result."
Frederick Waddell, President and CEO of Northern Trust, a leading global institution, said: "For more than a century, Northern Trust has contributed to educational, social welfare and cultural institutions around the world. We are proud to be a part of an event that will educate and inspire visitors with the work of British and South African contemporary artists while benefiting many of South Africa's disadvantaged children."
Artists who have pledged works include:
From the UK – Alison Jackson, Alison Wilding, Annie Lennox and Allan Martin, Antony Gormley, David Bowie/Beezy Bailey, Gavin Turk, Marc Quinn, Paula Rego, Richard Wentworth, Richard Wilson, Stuart Semple, Silvia Ziranek, Terry O'Neill, Tracey Emin and Yinka Shonibare.
From South Africa – Andrew Vester, Ardmore Ceramics, Baileys African History Archive, Barend de Wet, Beezy Bailey, David Goldblatt, Deborah Bell, Dylan Lewis, Guy Tillim, Jane Alexander, John Meyer, Joyce Ntobe, Judith Mason, Kendell Gears, Marlene Dumas, Mikhael Subotzky, Pieter Hugo, Roger Ballen, Simon Stone, Waddall (West Africa), Walter Meyer and William Kentridge.
Sotheby's , Alison Jackson , Alison Wilding , Annie Lennox , Allan Martin , Antony Gormley , David Bowie/Beezy Bailey , Gavin Turk , Marc Quinn , Paula Rego , Richard Wentworth, Richard Wilson , Stuart Semple , Silvia Ziranek , Terry O'Neill , Tracey Emin
Categories
Tags