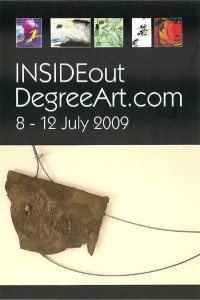 This July, INSIDEout is exhibiting at DegreeArt.com. This Hertfordshire based group of artists came together in 2008 with their first INSIDEout show, bringing together a number of graduates and undergraduates from the University of Hertfordshire and expanded with other local artists, all with the aim of showing the best in innovative contemporary art. The group is delighted to be once more holding an exhibition in London .
This will be the group's third exhibition, following on from its successful event held at The Crypt Gallery, St. Pancras Church, Euston, in March of this year. This time the venue has moved to the gritty East End of London – an area well recognised for its display of both established and emerging new artists' work – with the exhibition being held as part of DegreeArt.com in the Empire Gallery, 30 Vyner Street, London E2 9DQ, a gallery specialising in showing recent graduates' and emerging artists' work.
This exciting venue will be home to the diverse work created by INSIDEout's artists and will include for this show sculpture, plaster forms, photography, painting and printmaking. The artists involved are Sophie Cordery, Lupe Cunha, D-bar, Lotte Farnham, Charlotte Garrett, Louise Harrington, Anne Houghton, Janine Larson, Richard Phillips, Jan Reichmann, Jane Willis, Jon Williams and Chris Wilmott.
The Curator of the exhibition is the founder of the group, Lupe Cunha, MA.
INSIDEout hopes that its friends and supporters will join it at the exhibition's Private View to be held on Thursday 9 July 6 – 9 pm The exhibition will run from Wednesday 8 July to Sunday 12 July 2009, 12 midday to 6 pm
Categories
Tags