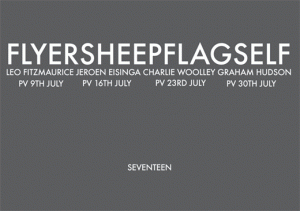 FLYERSHEEPFLAGSELF WEDNESDAY 8TH JUL – SATURDAY 1ST AUG 2009
For this group show in four parts, the artists will consecutively present a singular work in the main gallery space, each piece succeeding the last, having been displayed for one week. The show title alludes to the qualities or properties of each work, and also the linear, successive nature of the show.
The show commences with a temporary floor-based work Leo Fitzmaurice, then a piece by Dutch film-maker Jeroen Eisinga, followed by an installation by Charlie Woolley, culminating with a large work from Graham Hudson.
Each piece has a dedicated vernissage, and sausage will be served at each.
Dates for the openings are Thursdays 9th July, 16th July, 23rd July and 30th July, 6pm.
www.seventeengallery.com
.
Categories
Tags