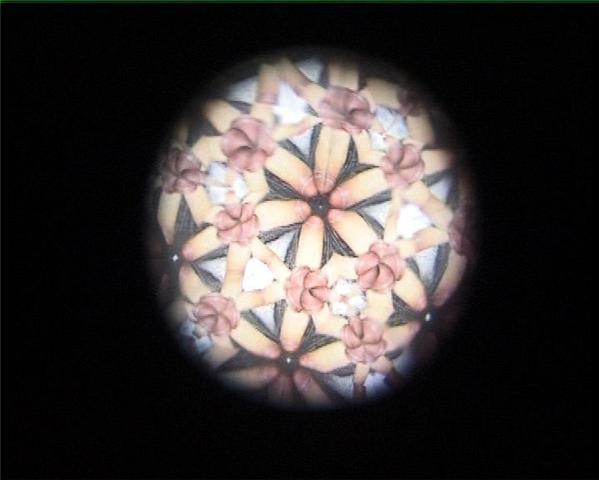 Sketch, though a salient Mayfair hotspot for dining is underestimated as locale for video art. Pioneering a unique kind of space for exhibiting video art is what gives Sketch its edge, and not the fashionable clientele that are seemingly manufactured there in egg-shaped pods.
The high walls of restaurant-come-gallery are currently illuminated with four videos by Cecile Emmanuelle Borra. The videos' profuse blossoming visuals are not what they at first seem; a kaleidoscopic lens manipulates images of male genitalia so they appear to be blooming and fading like flowers.
Borra describes it as a "sensuous visual embrace, generally associated with the female figure" though her concerns are not confined to a feminist discourse. The erudition and clarity of Borra's ideas set her apart. Her work succinctly articulates a critique on representations of both men and women, and raises the question "why are images of the male sex organ still so taboo?" Something diners may contemplate at length while choosing between a platter of oysters and a lobster bisque, or even glancing ahead at the lavish desserts, each listed with an individual sommelier's suggestion.
Sketch's stab at hybrid exhibition space to display video art is vital to work like Borra's Kaleidoscopes that exemplifies video art of the next wave. Visually seductive and pertinent, her work has the ability to glissade from a monitor in an East End gallery into this slick projection in W1 without compromise.
Kaleidoscopes is currently screening in The Gallery at Sketch, Mon-Sat 19:00-02:00
9 Conduit Street, Mayfair.
+44 (0)20 7659 4500
FAD will also be interviewing Cecile Emmanuelle Borra soon.
Categories
Tags