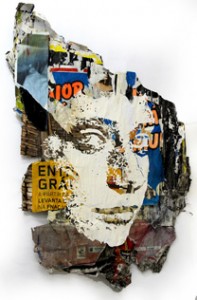 3rd July – 1st August www.lazinc.com
The first UK solo show from Vhils, AKA Alexandre Farto , features a series of new works inspired by his native city of Lisbon at a time of revolution.
Entitled Scratching the Surface, the exhibition reflects on revolution as a time when walls turn into instruments of communication and hope for the masses, and the remnants of which become a decaying playground for this young artist as he searches for his place and identity.
By re-contextualising the urban setting, Vhils explores and questions the many dimensions of cities and their inhabitants in a series of playful works. Focusing on the people that inhabit the artist's multicultural environment Vhils draws attention to the layers that underlie it. A set of portraits of unknown faces use unconventional techniques and materials; acid and bleach eat into surfaces to expose the layers beneath, the act of destruction becoming an act of creation, posters that exemplify a consumer society are subtly converted into objects poignantly celebrating humankind.
In his street work he discards posters, metal and paper and comes face to face with the rawness of the naked wall. He continues his celebration of the humanity underlying the urban canvas, this time by scratching beautiful portraits directly onto its walls. Vhils has exhibited in major European cities as well as in the USA, and most recently he was invited to take part in the widely acclaimed 'Tunnel 228' show in London's Waterloo.
The exhibition will coincide with the launch of his new book: Scratching the Surface, which will be released shortly after the show opening. Watch the video for Scratching The Surface (YouTube)
Categories
Tags