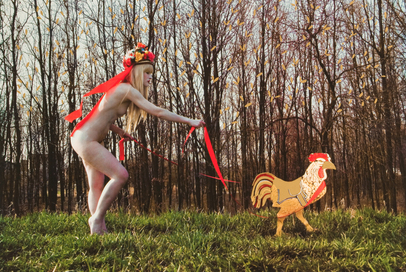 Tereza Buskova Beheading Of The Cockerel, 2009 Screen print 68 x 98cm (unframed)
Courtesy the Artist © Tereza Buskova
The Concept Store in Selfridges' Wonder Room 1-15 July 2009 All exhibited work on sale
murmurART, a pioneering new platform working with artists at the outset of their careers, has announced further details of its first pop-up exhibition launching this July in Selfridges' Concept Store, the alt-creative hub of the store's luxury department, The Wonder Room.
A panel of ten prominent figures, headed up by Alannah Weston, Selfridges' Creative Director, have chosen their favourite up and coming artists, whose work will be exhibited in a show conceived by Flora Fairbairn. Sir Peter Blake, Conrad Shawcross, and Tracey Emin will join Kirsty Wark, Zaha Hadid, Tim Marlow and collectors Kay Saatchi, Anita Zabludowicz and Kevin Spacey, to complete the panel.
The selection of artists includes Polly Morgan, Tereza Boskova and Rose Blake. They will be joined by other rising stars, Hugo Wilson, Sarah Muirhead, Bouke De Vries, Charles Danby, Matthew Musgrave and Jo Robertson.
The works on show will be for sale starting at £1,000, with one hundred percent of the sale price going to the artist. Computer consoles in the exhibition will link through to the murmurART site where more works will be available to buy: www.murmurart.com.
Accompanying these original works, will be exciting artist-created product and editioned work. Working with The Multiple Store, The Zabludowicz Collection's project space 176, and artists Toby Christian and Sam Buxton, murmurART have developed an exciting range, with prices starting from £50, on sale as part of the exhibition and available for visitors to buy and take away.
murmurART was set up last year by Will Conibear and Donald Eastwood, with the sole purpose of providing a platform for supporting and showcasing the best in new art talent. The unique murmurART model operates through a versatile website supporting regular exhibitions and events in roaming creative spaces. On murmurART.com works can be viewed and bought, allowing visitors the freedom to buy from beyond the confines of a traditional gallery setting. murmurART works in close collaboration with industry experts including leading independent curator and creative advisor, Flora Fairbairn, who has conceived the Selfridges project.
Unlike other art websites, the murmurART team rigorously select the most exciting artists and the highest quality work to feature on the site. Former Editor of ArtReview Catriona Warren who has a
proven track record in spotting the hottest new art talent, works with the murmurART team to constantly source the most exciting up-and-coming artists. Moreover murmurART provides buyers starting a collection, with professional guidance and the assurance of an expert eye.
This will be the first in a programme of murmurART exhibitions to take place in spaces across
Categories
Tags