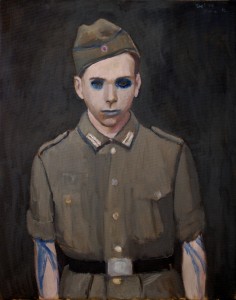 Serban Savu and Calvert 22's artistic director Jane Neal in conversation.
Friday 26th June, 6:30pm For more information please contact Sophie Benjamin, rsvp@calvert22.com
Calvert 22 is pleased to announce its second exhibition, Show me a Hero, which will feature some of the most interesting and exciting young figurative painters working today in Russia and Eastern Europe. Curated by Jane Neal, Calvert 22's Artistic Director, the exhibition will present works by Zsolt Bodoni, Adrian Ghenie, Vitaly Pushnitsky, Peter Sudar, Serban Savu and Alexander Tinei, many of which will be on show in the UK for the first time.
The idea of the 'hero' was a notion familiar to all young people growing up under communism in Russia and Eastern Europe. As Pioneers, the young were in training to be heroes and the authorities instilled in them how important it was to venerate the leader and to emulate the worker. For the generation who grew up during the last years of communism however, witnessing its disintegration and the destabilising effect of the sudden onslaught of capitalism, the heroes were changing or lost to them altogether. This left an entire generation, in the words of critic Mihnea Mircan, 'allergic to utopia'. Show me a Hero will consider the impact of the notion of the hero; the influences of social realism and the cinema and documentary on the work of these artists.
Richly atmospheric and vigorously painted, Zsolt Bodoni's dark canvases dramatically evoke the violent struggles of Hungary's chequered past. Simultaneously troubled and inspired by the notion of the monument, Bodoni's works address the commanding presence and often sinister implications of a type of sculpture intended to inspire or affirm the prowess of a victorious army or people.
Adrian Ghenie derives inspiration from the darkest episodes of 20th century European history, early cinema and Jungian writings on the collective unconscious. Playing with the viewer's vantage point, and re-casting the heroes and anti-heroes of the last century in often bizarre theatres, Ghenie conjures worlds that are completely convincing, connected as they are by the surrealistic exercise of daydreaming and by the artist's masterly ability to create a consistently rich, painterly language. His arresting paintings succeed in bringing the past uncomfortably close to the present, questioning afresh what is permitted to occur and what is ignored.
The everyday heroes depicted in the paintings of St Petersburg born and based artist Vitaly Pushnitsky might be seen as reflecting the romantic notion of the labourer in Social Realism, or even the glorified worker of Russian Socialist Realism. In his Meninas series, however, Pushnitsky draws his inspiration for his portraits from further back in art history, influenced by Velasquez's subversion of the traditions of portraiture. A persistent theme of Pushnitsky's practice is his use of light-filled negative space to lend a photographic quality to his paintings. Yet though they acknowledge the impact of photography, their scale and format is allied to history painting – a discreet reference to the classical tradition of the St Petersburg school that the artist has adeptly re-appropriated.
On first appearance, Serban Savu's meticulously rendered paintings of workers and 'ordinary' folk read as tender documents of the characters who reflect everyday life in the artist's native Romania. This arcadia is not what it seems; the 'dreams' Savu creates have a latent darkness informed by his personal experience of the after-effects (several generations on) of a social and political experiment devised by the communists in the 1960s to create a 'New Man' by forcing most of Romania's mostly rural population to move from their native villages to cities. The rural population did not assimilate the urban values and so emerged a hybrid category of people who colonised the peripheries in endless grey-blocked neighbourhoods while continuing to try and live as they had for centuries. Savu's work is far from a straightforward documentation of reality; instead it provides the viewer with a fascinating insight into a society struggling to contend with both its past and its future.
Peter Sudar's portraits initially read as being strongly influenced by social realism, recalling 19th Century Russian painters such as Repin and his French counterpart Courbet. Sudar positions his 21st century sitters in poses made famous by bygone artists, lending them contemporary 'props' such as sports jackets, bike helmets and flip-flops which take the viewer by surprise, the anachronisms prompting him to question when the works were made.
Born in pre-independence Moldova, Alexander Tinei describes himself as 'an absolute product of a soviet culture, transformed into western culture, transformed into myself'. His striking portraits of tattooed young subjects reveal his preoccupation with what constitutes a hero, and how issues concerning identity and the roles of authority and iconography are involved in the hero making process. Tinei's work is strongly influenced by the incongruence of growing up in Moldova, speaking Russian and accepting Russian heroes such as Pushkin, Dostaevsky and heroes of Russian art history such as Repin and Serov, while not actually being Russian himself. His portraits also reflect his new-found Christian faith, metaphors for how the artist views himself, often masked, neither human nor alien; a new creation.
'Show me a hero' is half of a line taken from the letters of the American writer F. Scott Fitzgerald in the early 1930s. It is a question, answered by the mournful response: 'and I will write you a tragedy'. The bittersweet nature of the comment may have been intended as a throwaway line, but for the artists participating in this exhibition, the role of the hero and anti-hero is as relevant as it has ever been.
Calvert 22, London's first not-for-profit foundation specialising in contemporary art from Russia and Eastern Europe opened in London's East End in May 2009. Founded by Russian art collector and economist Nonna Materkova and under the curatorial direction of Jane Neal, Calvert 22 will present four curated exhibitions each year, with the aim of promoting the rich contemporary art culture of Russia and Eastern Europe.
Categories
Tags