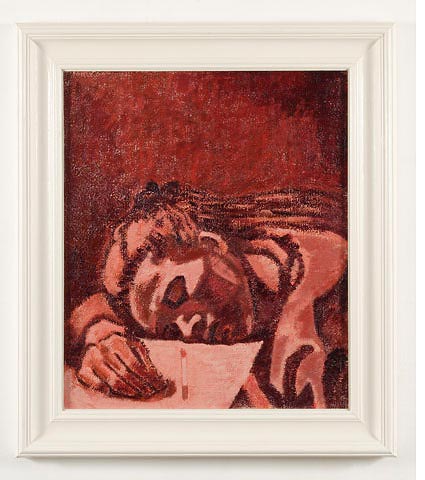 Haunch of Venison London is delighted to announce the second of a pair of exhibitions that constitute a retrospective for the acclaimed British artist, Keith Coventry.
Taken together, the two exhibitions reveal the breadth and consistency of Coventry's work from the early 1990s to the present. While the first exhibition in 2008 focused on the iconic Estate Paintings, White Abstracts and History Paintings which established Coventry's reputation in the 1990s, Works 2002-2009 will include an extraordinarily wide range of work, much of it overtly figurative, including major new works that have never before been exhibited.
Coventry habitually works in series and the exhibition will showcase several important new groups of work. Echoes of Albany (2004-2008), is a series of more than 40 paintings which address the history of the mysterious Albany apartments, located next to Burlington Gardens, and are painted in the style of Walter Sickert's controversial Echoes. Alongside depictions of the great and good – including Byron and Gladstone – Coventry subtly inserts contemporary scenes of prostitution and drug-taking, thus undermining this cornerstone of British society.
In contrast, the Anaesthesia as Aesthetic (2007-2008) series depict the apartments of early twentieth century Parisian art collectors in a reduced palette of flat colours. While the walls, furniture and floors of the interiors are painted in green and yellow, the works of art that inhabit the rarefied interiors are painted as sky blue silhouettes. In accordance with contemporary psychiatric theories these colours were used to treat the victims of shellshock in the aftermath of World War I.
White Slaves is a new 11-part painting which features arrays of acronyms used by prostitutes, painted in the colours of the flags of former Soviet Bloc countries. The exhibition will also feature Coventry's Black Paintings after Raoul Dufy, Broken Windows and a selection of new sculpture. Coventry will also exhibit for the first time a major new group of paintings of the head of Christ, based on Van Meegeren's notorious early twentieth-century forgeries of Vermeer, rendered in the palette and style of the German Expressionist Emil Nolde.
Categories
Tags