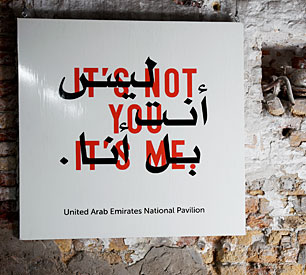 The entrance to the debut United Arab Emirates pavilion Photo by Mohamed Somji, courtesy UAE Pavilion
The UAE and its capital, Abu Dhabi, have both put on shows that are part World's Fair–style expos and part art exhibitions — a curatorially incorrect (and therefore exciting) mixture of political boosterism and artistic self-interrogation.
While the critical orthodoxy holds that the Venice Biennale's system of national pavilions is a 20th-century relic due for overhaul, the United Arab Emirates pavilion, together with Abu Dhabi's "platform for visual arts" — both making their debuts in Venice this year — illuminate the continuing relevance and fertile risk of engaging art and culture as tools of nation building. The UAE and its capital, Abu Dhabi, both put on shows that are part old-fashioned World's Fair–style expos and part art exhibitions — a curatorially incorrect (and therefore exciting) mixture of political boosterism and artistic self-interrogation.
The Abu Dhabi exhibition, mounted by the city's Authority for Culture and Heritage, is in a warehouse a 10-second boat ride away from the back of the Arsenale. Before you get to the art, you walk through an entry hall emblazoned with intimidatingly huge banners like the ones found everywhere alongside highways in the UAE. They're both absurd and thrilling in their bombast, advertising the general brilliance of the city and its utopian property developments, undaunted by the economic crisis. One of the banners advertises an apparently solid-gold building as the centerpiece of an unnamed waterfront development in Abu Dhabi, with go-go real-estate sales copy underneath: "Relaxed property laws mean that investors (local and international) keen for a slice of the action are snapping up property in the emirate's thriving real estate market."
This is weird to see in what you thought was going to be an art exhibition. A mirror at the end of the space has stuck to it a prophetic text titled "The Future of Culture" (how many nations would dare proclaim such a thing?), with the oxymoronic climax: "New forms have to be invented for our cultural institutions. The more things change, the more they remain the same, only the pace is different."
Want to get art-event coverage delivered right to your mailbox? Sign up for ARTINFO's weekly newsletter and special daily fair reports to get the latest on-the-ground reporting from the Venice Biennale, Art Basel, and other top art-world happenings.
How are the region's artists responding to these top-down political, economic, and cultural ambitions? You might expect (and perhaps secretly hope) for them to sign up for the cause in a Socialist Realist or Constructivist manner and launch an exhilarating new political-artistic aesthetic for the 21st century. But unsurprisingly they don't. The first piece you see is a low-key video by filmmaker Waël Noureddine: He simply points his camera at quotidian street life and presents it more or less unedited. It's boring, but Noureddine's insistence on banality might be a minor act of heroism in the heady climate of ubiquitous optimism.
There are also rough and refreshingly un-maudlin portraits of construction workers by Sami Al Turki, and Romantic, desolate photos by Mohammed Kazem of a lone figure with his back to us, gazing at vistas of empty desert dotted with construction work, flags planted next to him in the ground as if he could possibly stake a claim to this rapidly changing territory. Upstairs there's a room crammed with objects — toys, pots and pans, notebooks — accumulated by Hassan Sharif, another small-scale hero for his insistence on the vernacular rather than the splendid. Sharif is the founder of Dubai's grass-roots arts hub the Flying House, where his mad collections are archived in full.
While the work is strong, the show's curator, Catherine David (formerly of Witte de With in Rotterdam and director of Documenta in 1997), has refused any integration or confrontation with the both awkward and stimulating expo context. And so, as good as these artists are, they end up looking like appendages to the exhibition's main agenda of nation building rather than agents of it. Frankly, the massive posters in the lobby are more aesthetically powerful than any of the art on display.
On the other hand, the UAE pavilion, which is really just a large room in the Arsenale, is confessional and funny about the pressures of national representation. Curator Tirdad Zolghadr immediately confronts us with a corporate-style SWOT (strengths, weaknesses, opportunities, threats) analysis of the situation he finds himself in, showcasing both the UAE and its art to the world. His conclusion: "a reasonable measure of self reflexivity" but "no apologetics."
A quarter of the space is taken up with architectural models of Abu Dhabi's planned new cultural district, Saadiyat Island (Island of Happiness), which are bitterly disappointing responses to the exhibition's call for "new forms" to be invented for the UAE's cultural institutions. Instead, we get an elaboration on existing Western models: Frank Gehry gets to build a Guggenheim even wilder than Bilbao, Jean Nouvel has designed an exquisite Middle East outpost for the Louvre, and Zaha Hadid plans a gargantuan performing-arts center that looks like a sleek digital amphibian slithering out of the sea. Not to be outdone, Dubai, too, is planning a "Culture Village," and UNStudio has designed a Museum of Middle Eastern Modern Art that is so similar to Hadid's building that you think it must be a deliberate attempt to demystify her virtuosity through repetition.
In contrast to the grandiosity of the Abu Dhabi "platform," with its big-gun foreign curator, huge space, and aesthetic purity, the emphasis in the UAE pavilion, titled "It's Not You, It's Me," is on the bottom-up pooling of knowledge and the cultivation of arts infrastructure: Computer stations let you surf the nascent online UAE Art Archive, which showcases the work of national artists, and there's a video kiosk featuring conversations between cultural policymakers in the UAE.
But the main component of the pavilion is a selection of photographs by the 26-year-old Lamya Gargash. There are maybe a maximum of three types of living situations that we can easily imagine in Dubai through standard media coverage (Simon Jenkins and Germaine Greer in particular are guilty of shockingly lazy stereotypes): the decadent five- (or seven-) star hotel, the ex-pat gated community/compound on an artificial island, and the Dickensian laborers' camp. Gargash undermines this list with a type of accommodation that doesn't come so easily to mind: the humble one-star hotel.
Gargash photographs people-less hotel rooms (though she occasionally inserts framed photos of family members), lobbies, and corridors head-on and unemotionally with a medium-format camera, creating a systematic analysis of what usually gets summarily repressed in the official narrative of Dubai, city of wonders: the generic and the banal. We see beds with gaudy purple comforters and white sheets folded crisp and tight and awaiting your arrival, clean tiled floors, tissue dispensers and cushions just so, elaborately folded towels, air-conditioning units, flowers — nothing fancy, but everything pristine.
Her transient hotel rooms might be an update on Bedouin tents as a mode of living. They also reveal the aesthetics of the UAE's small and hidden lower/middle class, from which an embedded civic society — rather than a get-rich-quick expat commercial zone — will grow. Gargash is a worthy "representative" of her nation, pointing out an optimistic, necessary, and largely ignored "future of culture" in the UAE.
Via (ARTinfo)
Categories
Tags