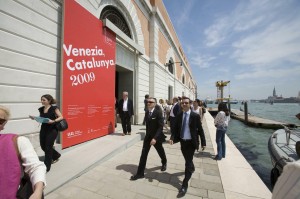 The biennial has been amazing jam packed, full, of everything.
A no holes barred tear up from the start, thankfully now starting to slowdown a bit so I can begin the daily updates from here enabling you to have a taste of the in depth review you'll get when I'm back.
When I get back to decent Internet access that will allow me to select some of the 625 photos and 14 films I have made which detail what I've seen over the last four days.
Has it been that long already? It's all been a full on blur with the only focus being on art. The dedication to viewing, talking about and trekking to art is truly impressive.
The satellite shows are on every other street some good some not so, but the overriding edge is all about the art. Every country is going over the top to promote inform and give you free stuff at every turn.
First you have to admire the quality of the pavilions. The Arsanalle is an exceptional indictment of why we do, and why we love art, The only down side has been the organization of the press office that promised great access and couldn't always deliver asking us to come back when they had sorted themselves out and then finding that they hadn't.
The exhibitions I have been surprised by are many but the Cataluniya exhibition has and is worth looking at when the photos come on line.
From every angle you see a microcosm of a countries aspirations, politics and cultural attitudes all on show, there is a lot to observe as well as art here but always the mood is good, inclusive and fun.
The Netherlands had a giant screen on the waterfront that you can see on line and I managed to link in FADwebsite and grab some of our images and display them for a few minutes.
Travelling light by WW gallery and Pharos Gallery was where everyone ended up for a great party .
Distortion has an amazing show with a really good vibe about the space and people like Gavin Turk,Mat Collishaw, John Isaacs, Alastair Mackie, Tim Noble & Sue Webster and not forgetting the bikini babes bringing a certain informality and friendliness . So many galleries and art spaces are open and I will fill you in all in good time, after all it's on until November.
About Mark Westall