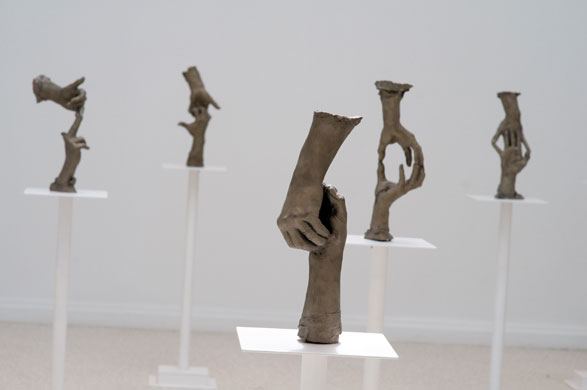 Bruce Nauman's Fifteen Pairs of Hands, photo by Christian Sinibaldi
Bruce Nauman's installation "Topological Gardens," currently on view at the US pavilion and two other venues
at the fifty-third Venice Biennale, has won the Golden Lion for Best National Participation. In its award citation, the Biennale stated that Nauman's work "reveals the magic of meaning as it emerges through relentless repetition of language and form." This is the first time since 1990 that an American artist has won the award. The international jury for the award comprised Jack Bankowsky, Homi K. Bhabha, Sarat Maharaj, Angela Vettese, and Julia Voss.
The jury also awarded Tobias Rehberger a Golden Lion for Best Artist of the exhibition for his piece in the Palazzo delle Esposizioni, and the Swedish artist Nathalie Djurberg a Silver Lion for Promising Young Artist. The jury also decided to assign four Special Mentions in the following categories: a mention for Remaking Worlds was given to the late Brazilian artist Lygia Pape for her work in the Arsenale; one for Curating Worlds was given to Michael Elmgreen & Ingar Dragset for their work as curators of the Danish and Nordic Pavilions; a mention for Expanding Worlds was given to Ming Wong for the Singapore Pavilion; and the artist Roberto Cuoghi received a mention under the category of Translating Worlds for his work Mei Gui in the Palazzo delle Esposizioni.
About Mark Westall