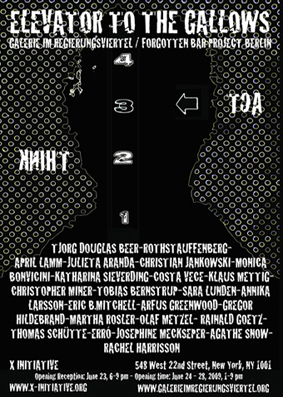 NARCOTICA presented by GALERIE IM REGIERUNGSVIERTEL IN BASEL
Julieta Aranda, Tjorg Douglas Beer, Tobias Bernstrup, Marc Bijl, Monica Bonvicini, Filipa César, Hansjoerg Dobliar, Erró, Anna-Catharina Gebbers, Andreas Golder, Arfus Greenwood, Gregor Hildebrandt, Volker Hueller, Sofia Hultén, Christian Jankowski, Dionisis Kavallieratos, Christoph Keller, John Kleckner, Rubin van Kooyck, John Kørner, Alicja Kwade, April Elizabeth Lamm, Annika Larsson, Raphael Linsi, Mark Lombardi, Sara Lunden, Josephine Meckseper, Klaus Mettig, Olaf Metzel, Christopher Miner, Eric B. Mitchell, Stephan Mörsch, Kerstin Niemann, Kinay Olcaytu, Raymond Pettibon, RothStauffenberg, Thomas Scheibitz, Christoph Schlingensief, Ivan Seal, Kerim Seiler, Andreas Slominski, Thomas Schütte, Norbert Schwontkowski, Katharina Sieverding, Franz Stauffenberg, Alexandros Tzannis, Malte Urbschat, Joep van Liefland, Costa Vece, Florian Waldvogel, Pedro von Wirz, Sebastian Zarius
June 09 – 13, 2009, daily from 10 am to 10 pm
June 08, 8.00 pm opening reception, bar & exhibition open, 7.30 pm records: Marc Bijl
June 09, 8.00 pm bar & exhibition open, 7.30 pm film: Anna-Catharina Gebbers presents ten animal films by Christoph Schlingensief
June 10, 8.00 pm records: Most of All Young Hearts Run Free
June 11, 3.00 pm group hypnosis: Dagmar Brandi
8.00 pm lecture: You can not be serious! Florian Waldvogel(Director Kunstverein in Hamburg)talks about John McEnroe
film: RothStauffenberg present Eric B. Mitchell, Kidnaped 1977
June 12, 8.00 pm performance: Manuel Goliath
June 13, 8.00 pm records: DJ Hanskans
GALERIE IM REGIERUNGSVIERTEL / FORGOTTEN BAR PROJECT SchalterClaragraben 135
4057 Basel SWITZERLAND
ELEVATOR TO THE GALLOWS
Julieta Aranda, Tjorg Douglas Beer, Tobias Bernstrup, Monica Bonvicini, Erró, Arfus Greenwood, Gregor Hildebrandt, Christian Jankowski, April Elizabeth Lamm, Annika Larsson, Sara Lunden, Josephine Meckseper, Klaus Mettig, Olaf Metzel, Christopher Miner, Eric B. Mitchell, Katharina Sieverding, Franz Stauffenberg, Costa Vece, Thomas Schütte, Agathe Snow and others
The installation ELEVATOR TO THE GALLOWS is positioned in the freight elevator of the building.
The Elevator will be turned into an installation, a mix between KOROVA MILKBAR, MERZBAU, Daniel Spoerri`s TOPOGRAPHY OF CHANCE and Louis Malle`s ELEVATOR TO THE GALLOWS.
Twenty people at a time can experience a 10 to 15 minutes fake-ride with the elevator.
The artists have developed works for the elevator.
Reference: Daniel Spoerri`s Topography of Chance is based on numbered leftovers on a breakfast table in Spoerri`s hotel room one morning in Paris. He creates a story by putting together anecdotes about the people behind the things having been left on the table. The story turns around the everyday life poetic in the banal little stories and shows the relation between Daniel Spoerri, Emmett Williams, Dieter Roth and Robert Filliou.
One could call it a monument to the beauty of simplicity, true poetry and friendship.
X INITIATIVE 548 West 22nd Street New York, NY 1001 USA
http:// GALERIEIMREGIERUNGSVIERTEL.ORG
http:// X-INITIATIVE.ORG
GALERIE IM REGIERUNGSVIERTEL FORGOTTEN BAR PROJECT POSTFACH 610618 10937 BERLIN
http://www.galerieimregierungsviertel.org
Categories
Tags