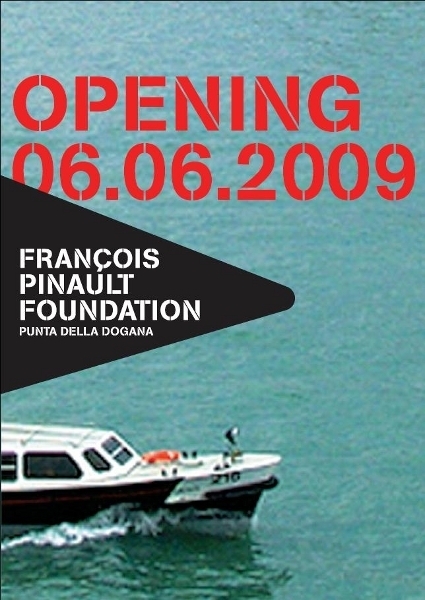 On June 6th 2009, Punta della Dogana, the new art center for contemporary art of the François Pinault Foundation, opens its doors after fourteen months of renovation entrusted to the Japanese architect Tadao Ando.
The first exhibition Mapping the Studio: Artists from the François Pinault Collection, curated by Alison M. Gingeras and Francesco Bonami, is shown simultaneously at Punta della Dogana and Palazzo Grassi and is shaped in response to the particular atmosphere of each space.
Undisputed masterpieces of contemporary art by such figures as Jeff Koons, Sigmar Polke, Cindy Sherman, Richard Prince, Cy Twombly, Takashi Murakami or Jake & Dinos Chapman are presented alongside pieces by emerging talents such as Matthew Day Jackson, Adel Abdessemed, Wilhelm Sasnal, Richard Hughes, Nate Lowman, Mark Bradford and Kai Althoff.
Conceived as a single exhibition that will unfold over the two venues, this presentation will be shaped in response to the particular atmosphere of each space: the inward-looking private sphere on one side, and the outward looking, world-at-large on the other. The two halves of the exhibition will constitute a dialogue between artists of different generations, covering a vast range of practices and aesthetic sensibilities.
François Pinault has entrusted the renovation of this 17th century edifice to Japanese architect Tadao Ando. Respecting the spirit of the original building, he has renovated the space in order to house a selection of works from the François Pinault Foundation, one of the world's most important collections of contemporary art.
With its triangular shape, Punta della Dogana split the Grand Canal from the Giudecca Canal. As center for contemporary art , the former monumental port of the city present a permanent exhibition of works from François Pinault Collection.
Punta della Dogana project
Tadao Ando drew up his plans for the new centre quickly. In effect, if one looks at his drawings one sees that, from the first, the broad outlines of the project were clear in his mind. The characteristic layout of the former warehouses, which occupy the triangular tongue of land where the Grand Canal meets the Giudecca Canal, was to be maintained.
And while extensive work on the foundations was to be carried out – to safeguard the structure from humidity and high water – the layout of the existing lofts was to be modified in order to create a space able to house the artworks of the François Pinault Collection. At a point almost dead-centre of the triangular floor plan, Ando immediately envisaged the creation of a new space standing the entire height of the building: a sort of pivot for the entire layout, this would occupy one of the middle warehouse aisles and was to be created in smooth and polished cement, a material that is now a recognised leitmotif of Ando's architecture. This axial point – through which run all the routes within the structure – forms a cube, rising vertically within the volume of the building.
The work of restoration had to remove the unwanted accretions that had accumulated over time, with the new partition walls, stairs, walkways and service facilities all clearly identified as such. In effect, there is no attempt to disguise these new additions within the old body of the structure. Instead, there is a continual play of juxtaposition – almost as if Ando's intention were to insert within the ancient building new volumes and levels that seem to mark out the stratifications added over time, organising them into a veritable spectacle of the structure's own history.
Finally, he had the idea of creating gates for the water entrances that are explicit quotations of the wonderful gate that Carlo Scarpa designed in 1956. The design of these new doors and windows, though very modern, effectively employed Venetian traditional craft. Tadao Ando has thus succeeded in establishing a dialogue between old and new elements, creating a link between the history of the building, its present and its future.
François Pinault (born 21 August 1936) is a billionaire French businessman who runs the retail company PPR. He is a friend of former French President Jacques Chirac. According to Forbes List of billionaires (2008) he is ranked 39th in the world, with an estimated fortune of US$16.9 billion.
His holding company Artemis S.A., owns (or owned), among others, Converse shoes, Samsonite luggage, Château Latour, the Vail Ski Resort in Colorado, and Christie's auction house. Artemis also owns Executive Life (now Aurora Life) in California, which was sued by policy holders when the company failed.
Pinault owns one of the biggest collections of contemporary art worldwide. On the magazine ArtReview's 2006 list of most powerful people in modern art, he was ranked in first place. In 2006 he obtained the ownership of Palazzo Grassi in Venice to display the collection.
Pinault led PPR through a long battle over control of Gucci, the Italian fashion house, which began with an attempted takeover of Gucci by LVMH, the world's largest luxury goods company. In March of 1999, Gucci asked PPR to acquire an ownership interest in Gucci to help fend off LVMH. The result was a struggle between the two richest men in France, both self-made billionaires — Pinault and Bernard Arnault, the Chairman of LVMH.
The dispute ended in September 2001, when LVMH agreed to sell its shares in Gucci to PPR for $94 a share. As part of the agreement, PPR promised to tender for the balance of the publicly traded shares at a later date. It completed that buy-in in July 2004 and took full control of Gucci.
In 1998, Pinault purchased a majority share of Christie's auction house. In February 2000, A. Alfred Taubman, majority shareholder of rival company Sotheby's stepped down amidst a scandal after the Federal Bureau of Investigation had investigated commission-fixing between the two companies. Pinault was not implicated, but rather it was his actions which precipitated the scandal. He fired Christie's CEO Christopher Davidge over an allegation of extravagant spending. Davidge then admitted the collusion, which had gone on since about 1995, to Artemis' CEO Patricia Barbizet. In October 2000, Sotheby's CEO, Diana Brooks admitted her guilt in hopes of receiving a reduced sentence, and implicated Taubman. In December 2001, jurors in a high profile New York City courtroom found Taubman guilty of conspiracy. He served a year and a day in prison and Mrs. Brooks got 3 months of home confinement and a penalty of $350,000. International law permitted Christie's to avoid prosecution (other than civil penalties).
Currently partnered to Mexican actress/producer Salma Hayek on March 9, 2007, they confirmed they were expecting their first child. On September 21, 2007, she gave birth to daughter Valentina Paloma Pinault at Cedars-Sinai Medical Center in Los Angeles, California. On July 18, 2008, Hayek and Pinault announced the end of their engagement. They later reconciled and were married on Valentine's Day, 2009 in Paris. On April 25, 2009, they were married a second time in Venice.
Punta della Dogana Contemporary Art Centre , Francois Pinault , Tadao Ando , Alison Gingeras , Francesco Bonami , Robert Gober, Felix Gonzales-Torres , Mike Kelley , Cady Noland , Sigmar Polke , Charles Ray
Categories
Tags