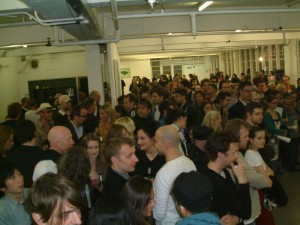 Rhythm Factory, 16-18 Whitechapel Road, London E1 1EW
EXHIBITION Wednesday June 3rd to Saturday June 27th
Mon to Fri 11am – late Sat 9pm – late
THE NAMES OF 500 ARTISTS
The Names of 500 Artists is a list of names of artists. The list is arranged chronologically by year of birth, with the first artist on the list born 1941 and the most recent in 1987. This draws a historical line from just before the YBA era up the present day, mirroring my own experience in the artworld.
The artists in this list are mostly British, mostly London based or show in London, and many of them I know – as friends and acquaintances, or through their work as artists, or their inclusion in countless group shows, or as people who email me about their work, or maybe just as email addresses – or even as 'friends' (think facebook, myspace, artreview.com, LinkedIn, etc etc etc).
The work is part act of memory on my part, part research project, part network(ing), part personal history of art, part self-portrait, part subjective view of the artworld, part top 500 list, part survey, part generational overview, part diary.
It is, of course, subjective and completely bound by my own experience. Whereas I worked on the list over a period of months, making choices, re-arranging, trying not to forget close friends, so others will wonder why some names – so important in their world – do not appear. Or indeed, why some do. Everyone has their own list. And this list is mine.
The Names of 500 Artists is a list of artist's names arranged chronologically by year of birth. Where two or more artists share the same year they are listed alphabetically by surname.
The list has been compiled by Russell Herron (www.russellherron.com)
The list has been designed by Susanna Edwards (www.susannaedwards.com)
Following the launch of the show the list will be available online on Russellherron.com
Russell Herron (b. 1967) worked throughout the 1990's under the name SR producing works as adverts, stickers, flyers and magazines. Over the last few years he has worked under his own name, often using the name as part of the work itself. In 2006 he wrote an online blog called Russell Herron which described a year of going to private views, launches and performances. Since 2007 he has produced a weekly email of private views in and around London.
He continues to produce works using his own name and has recently shown work at VINEspace, Ferreira Projects, Studio 1.1, Gasworks and Wilson Williams and has co-curated THIS WAS NOW: The Russell Herron Collection which opens at Sartorial Contemporary Art in July. He lives and works in London.
Categories
Tags