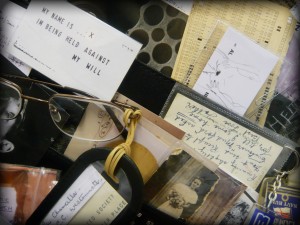 1 When did you start to make art?
When arranging spaghetti letters on my dinner plate I guess..
2 How did you evolve into a professional artist?
after several attempts at not being thrown out of educational facilities, I finally got a 1st degree in illustration..the rest is down to networking and working far to hard!
3 What drove you to make art as a professional vocation?
An incessant need to express myself which no other vice can satisfy.
4 Explain your inspiration?
A lot of my work explores issues surrounding metal health, stigma and the subconscious. This developed after finding a room full of boxed mystery codes that my grandfather had written in secret for 30 years after being sectioned, and investigating…weird stuff!
5 In what way does your inspiration transform into ideas?
Mapping out a Plan of Execution, I like to work in several different media, it keeps it interesting and when I'm hands-on making things, my brain starts thinking on it's own…
6 From Ideas to production of art – how? And why?
i constantly collect anything relevant to my project like notes, trinkets etc, maybe hoard is a better word…and pile then up in order of colour, material and theme, then find a vessel to house them all and create around them. My studio is somewhat caotic to say the least., but I need to see everything layed out infront of me to process it all, a combination of OCD and pure obsession I think.
7 Could your ideas be portrayed in any other medium? If so which?
I am focused on small scale installation for the time being, but I would love to play around with stop motion animation and sound art. I like the idea of creating an 'experience' rather than an 'exhibition' something that swallows you for a moment…the setting for my installations is becoming more and more important for this reason…a bit freaky but nostalgic.
8 Which artists would you most like to blatantly rip off?
I'd say Christophe Buchel, he has done some really amazing large scale installation work that spans through whole buildings, with visitors climbing through freezers and digging tunnels…one day, one day…
9 Why is your art made?
To allow people to stop for a moment and consider who they are, what they remember, feel something they had forgotten and soak up something new.
10 What does being an artists mean to you?
Everything.
11 Are you happy with your reasons for making art? i.e Are there any trade offs that make life hard?
I honestly think that as a career choice it is the most difficult thing you can do..forever working, hard to break into the big time and all that. But I have chosen it as a lifestyle and I live well.
12 When does your art become successful?
For me it is all about real recognition and repect from contemporaries in your field.
13 What is art?
Reflection.
14 How do you start the process of making work?
I have several sketch books with me always, one for rough notes that no one will ever see, one with first ideas and drawings that I later develop things from, and one for boring organizing type things and one that's just pockets for collecting things in, newspaper cuttings and the like. My bag is heavy.
15 Who prices your work? And how is the price decided upon?
I think this is one the hardest parts for any artist or creative , commercial or otherwise. How can you put a price on something so personal? That' shwere things like Agents come in handy.
16 What is your next; move,project,show etc?
I am currently working on a dollshouse based on a book by a French psycologist called "Lived Time", the phenomenology and philosophy of how we move through life and what happens when we lose the will to do so, scytsophrenia inparticularly. Sounds dark but it will hopefully be visually arresting, and I like working with tiny things…!
17 What are the pros and cons of the art market?
One of the reasons I'm into intstallation, as I think a lot of new artists are, is that it removes the fascination of the "object" as a marketable "thing"..hte power is taken back from the galleries and auction houses looking to sell for cash and the focus is back on the concept and experience of art.
18 Which pieces would you like to be remembered for?
I think I'd rather be remembered as an artistic investigator rather than for one piece, actually just to be remembered would be fine.
19 Any routine in making your artwork? If so what?
Apart from constantly thinking about it, I wish I had more routine!

20 What has been the biggest break in your career?
When I started freelanceing in the window display's at Selfridges department store, as they say, when a door shuts a window opens, and many did!
21 Who has been the biggest influence on you?
Oh so corny, but my parents
www.egibson.co.uk
Emma is showing at Dirty Laundry Dalson Supermarket Art Opening June 3rd 7-10pm
Categories
Tags