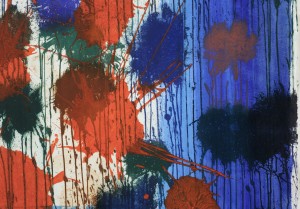 3 June – 11 July 2009
SIR HOWARD HODGKIN UNVEILS HIS LARGEST AND MOST AMBITIOUS WORK EVER
Turner Prize winning artist, Sir Howard Hodgkin, is to unveil his largest and most ambitious work to date this summer. The work, As Time Goes By, is comprised of a pair of monumental pictures, each measuring 20 feet long and is part of an exhibition of the same name at the Alan Cristea Gallery from 3 June.
Hodgkin is famously reluctant to talk about the subject matter of individual paintings and he has described words as 'often extraneous'. He has said: 'My subject matter is simple and straightforward. It ranges from views through windows, landscapes, occasional still lives, to memories of holidays, encounters with interiors and art collections, other people, other bodies, love affairs, sexual encounters and emotional situations of all kinds.'
Hodgkin often selects names for his work that he has affection for but that don't necessarily relate to its original influences. This major new work is named after the song, 'As Time Goes By', made famous by the film, Casablanca, which celebrates the idea that the world will always have room for lovers despite the stresses of daily life and passage of time.
Each piece of As Time Goes By consists of five panels worked on by Hodgkin with a combination of aquatint, carborundum embossing and painting in acrylic. These are the largest works ever made, by any artist, using this technique. In addition to the new work, As Time Goes By, the exhibition will include two older series of hand-painted etchings: The Venice Series (1995) and Into The Woods (2001).
Howard Hodgkin (b.1932) is one of the most important painters and printmakers working today. His works are held by almost every major international museum and he has been the subject of numerous retrospectives most recently at Tate Britain in 2006. Hodgkin represented Britain at the 1984 Venice Biennale, won The Turner Prize in 1985, was knighted in 1992 and made a Companion of Honour in 2003.
Alan Cristea has been the exclusive publisher of Hodgkin's prints since 1987. In 2006 the gallery collaborated with the Barbican to mount the first large-scale touring retrospective of the artist's work in this medium, which has now toured to galleries and museums across the UK.
Alan Cristea Gallery is the largest dealer and publisher of 20th-century and contemporary prints in Europe, publishing prints by the very best international artists as well as regularly showing paintings, works on paper, light-boxes and installations.
Image:A pair of Sugar-lift aquatintswith carborundum relief and extensive hand-painting on five hand torn panels of 350 gsm Moulin de Gué paper measuring overall 96 x 240 inches / 244 x 610 cm (each). Each in an edition of 7. Courtesy of the artist and Alan Cristea Gallery
Howard-Hodgkin-in-the-Standard

Howard-Hodgkin-in-The-Guardian
Categories
Tags