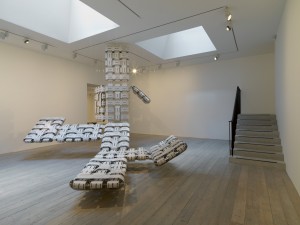 photo: Marcus J. Leith
Wednesday to Sunday 11am–6pm Raven Row
Social and psychological realities are abstracted in different ways by the artists brought together for this exhibition. The works shown here have been produced through a process analogous to elasticising – stretching, squeezing and transforming. The collective Ultra-red draws sound out of political struggles, while Ann Lislegaard compresses the soundtracks of science fiction films, and Thomas Bayrle models molecular structure from highway systems.
Thomas Bayrle (born 1937, living in Frankfurt) has been working since the mid-sixties and is now recognized as key to a European kind of Pop Art. In Bayrle's work, single units are replicated and stretched into a mass, describing a world suspended between positive collectivism and deadening uniformity. His sculptural works and the film Autobahn-Kopf in the ground floor galleries use the metaphor of the highway to characterize a state of modernity where we are 'racing to stand still'.
The recent works of Ann Lislegaard (born 1962, living in Copenhagen) describe worlds that, like Thomas Bayrle's, hover between utopia and dystopia, and refract reality through the imaginary. Her animation and sound works in the first and second floor galleries reduce classic works of science fiction to bare components in order to depict geographies that are simultaneously mental and physical.
Ultra-red was founded in Los Angeles in 1994. It currently comprises nine artists and political activists who use sound to engage in community struggles in Europe and North America, for example in issues of social housing and immigration. During a residency at Raven Row they have hosted workshops with local activists using the art of sound to consider methods of community activism. In the shopfront gallery they will collectively develop their research, adding sound recordings over the course of the exhibition.
In an essay to accompany the exhibition, writer and critic Lars Bang Larsen considers the philosophy of the elastic, and elaborates on the role of motion, vibration and nervous energy in these works and the wider culture.
www.ravenrow.org
Categories
Tags