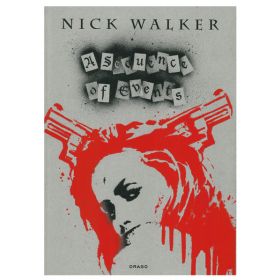 Black Rat Press would like to announce that our next exhibition is a book launch and solo show of works by Nick Walker. Drago publishing invited Nick to work with them on a book to be published as part of their 36 Chambers Series. The 36 Chambers is an ongoing Drago project where artists are invited to produce a book with 96 pages in black, white and a colour of their choice – beyond this broad guideline artists have total freedom over the content of the book. For Nicks book – A Sequence of Events – he produced a series of works on paper and we are delighted to celebrate the launch of the book by holding a exhibition of these works along with a book signing.
The exhibition will provide a unique opportunity to gain an overview of Nicks work to date. Currently planning a New York show featuring a new direction and body of work this show is a celebration of Nicks career so far and marks the beginning of the next chapter.
Nick Walker is one of the worlds best known street artists and his instantly recognisable style and humour have gained him a worldwide following. In 2008 Nick had sell out shows in LA and at Black Rat Press in London. His work is in numerous public and private collections worldwide and can currently be seen exhibited alongside Warhol, Murakami and Marden in the 'With you I want to Live' show at the Museum of Fort Lauderdale.
A sequence of events opens on May 28th at 6pm. 2 Screenprints will be available at the opening, a small number of each edition will be held back for overseas collectors. Any collector from overseas interested in the opportunity to purchase a screenprint should email info@blackratpress.com with the email title Nick walker lottery. Names will be picked at random and offered either one or the other print.
We hope to see you at the opening. For those who cannot make it to the preview evening the exhibition will continue until June 18th.
Categories
Tags