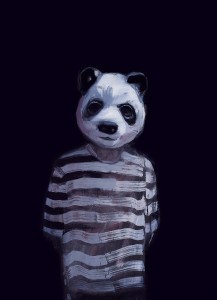 When did you start to make art?
9.30am
How did you evolve into a professional artist?
People liked what I was painting enough to give me money for it.
Explain your inspiration?
Cheap books, heroes, girls, Zulus, odd looking women, suburbia, da riddum, family, stories, horses, dogs, packaging, summer holidays, the smell of make up and cheap perfume, powertools, tea, tomatoes, Britain In Colour.
In what way does your inspiration transform into ideas?
Inspiration is ideas
From Ideas to production of art – how? And why?
See above
Could your ideas be portrayed in any other medium? If so which?
Yes, watercolour. Or cake.
Why is your art made?
Because it won't make itself.
What does being an artists mean to you?
Not being something else
Are you happy with your reasons for making art? i.e Are there any trade offs that make life hard?
Yes. And no.
What is art?
A shortened version of 'artefact'.
How do you start the process of making work?
I make a cup of tea.

Who prices your work? And how is the price decided upon?
My work has two prices: what someone wants to pay and what I want to sell it to them for.
What is your next; move,project,show etc?
After the London show, I have a solo exhibition in New York.
What are the pros and cons of the art market?
Free drinks/having to talk about what I do.
Which pieces would you like to be remembered for?
I haven't made them yet.
Any routine in making your artwork? If so what?
Tea first, followed by paint
What has been the biggest break in your career?
Being asked to put on a show at the Truman Brewery.
Who has been the biggest influence on you?
My mate Paddy.
How many artworks have you given away and to whom?
Quite a lot. The list be a long one. When I moved house a couple of years back I threw a vanload of paintings into a landfill in South London.
Charming Baker is having a solo exhibition calledl The Meaning Of Everything at the Gallery on Redchurch Street, E2 from 5-14th June. Preview night is on 4th June.
Another Interview with Charming Barker www.artasty.com
See Charming Baker in Los Angeles (link)
Another Charming Baker Video (link)
Categories
Tags