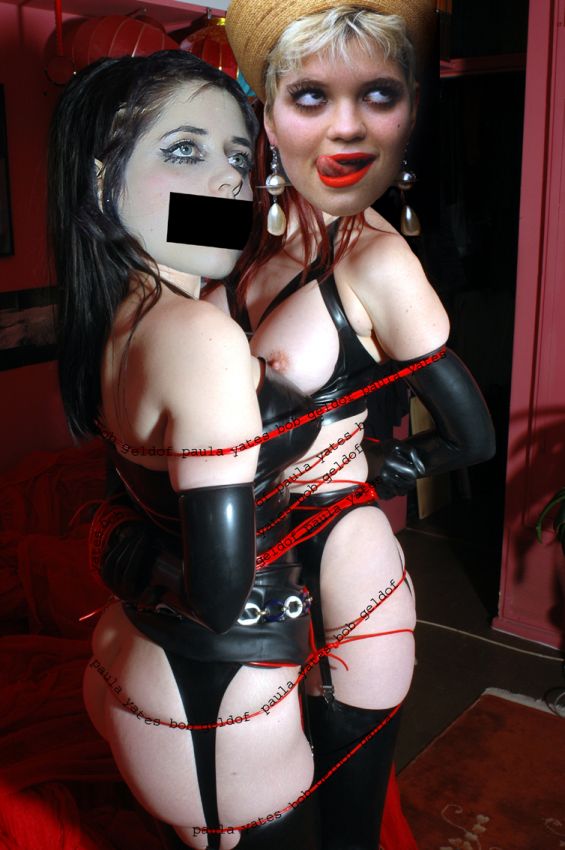 'CELEBRITY SPAWN' JADE JAGGER STELLA MCARTNEY, PIXIE & PEACHES GELDOF
FOCUS OF BEN WESTWOOD EXHIBITION
Enfant terrible son of Dame Vivienne Westwood, Ben Westwood's latest exhibition 'Spawn:Bound' at the Bodhi Gallery, Brick Lane from Thursday 28th May – Wednesday 10th June 2009 investigates the modern phenomenon of 'famous children of the famous', bound forever by the umbilical cord of their parents fame. Westwood, who is spawn himself, examines Lily Allen, Pixie and Peaches Geldof, Leah Wood, Kimberley Stewart,Theodora Richards, Amber Le Bon, Stella McCartney, Jade and Elizabeth Jagger, to name but a few, who all have fame derived and entangled up and ultimately held back by, the celebrity status bestowed upon them from their famous parents. Bodhi Gallery
AN EXPLANATION
The pressures and celebrity status thrust upon the children of pre-internet celebrities is a new phenomenon. The children of 'nostalgia' celebrities have replaced the children of aristocracy in terms of their status and perceived cultural importance, according to fashion photographer and pornographer
Ben Westwood. It's not 'Lady this…' and 'Lord that…', but instead rock children, film children, TV children. Rockstocracy! Infact there's been a major outbreak of celebrity spawn.
We're talking about the children of major stars like Sir Paul McCartney, Sir Mick Jagger, Phil Collins, Ronnie
Wood, Keith Richards, Simon Le Bon and Rod Stewart, celebrities who commanded a mass audience through non-internet straight and limited media distribution in the 60s, 70s and 80s, where life was simpler and not deluged by social networking sites, weblogs, the digital television universe and hundreds of celebrity magazines. Too Much! Stars who made a massive impact on everyone, and who are still beacons, the only real stars.
They are the new establishment. Their off-spring are the reproduction of that original fame, fame that still acts as a flagpost in the hill, but which has created a generation of children bound by their parent's fame. Impossible to be free of. Forever entangled. Spawn: Bound.
Categories
Tags