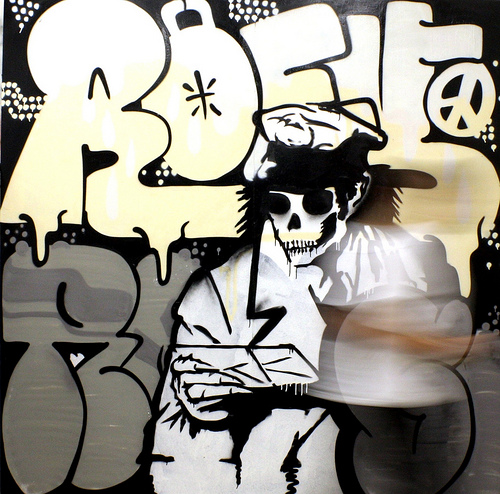 TimeBomb is the brainchild of digital artist Lukasz Karluk (Holler) and Sydney sculptor/painter Maddi Boyd
(KissKiss)
Merging interactive programming and traditional wild-style graffiti painting ("bombing"), TimeBomb allows the
audience to unlock the secret history behind a graffiti wall.
Over four days nine urban artists contributed to the TimeBomb piece, painting layers upon layers of different
styles. Their work was documented through time-lapse photography, creating an animated film of the whole
process.
The final installation will feature two giant graffiti walls suspended in the Museum of Contemporary Art, Sydney.
One wall will be the real painting, the other a projected film double. The visitors' physical movements in the
museum can then control this film, going backwards in time, revealing the now-covered layers of graffiti.
TimeBomb can be experienced at the opening of Creative Sydney at the MCA, May 27 2009, 8 pm
Creative Sydney is a festival celebrating the wealth and diversity of the city's creative talents.
It runs May 27 – June 12 2009, at the Museum of Contemporary Art, Circular Quay, The Roxy, Parramatta
Register for tickets to the event at http://creativesydney.com.au
Categories
Tags