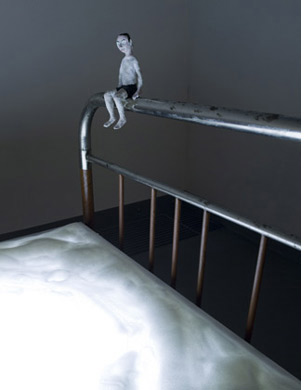 Calvert 22 is delighted to present Past Future Perfect, the foundation's inaugural show curated by David Thorp. The exhibition will bring together five leading contemporary Russian artists: Alexander Brodsky (b.1955), Pavel Pepperstein (b.1966), Haim Sokol (b.1973), Leonid Tishkov (b.1951) and Stanislav Volyaslovsky (b.1971). Although the artists vary greatly in terms of the chosen media of their practice, they connect via theircommon desire to excavate the past; to explore both collective and personal
mythologies; and through the realisation of their imaginings of the future.
The majority of works in Past Future Perfect will be on show in the UK for the first time.Alexander Brodsky's work is characterised by a unique ability to translate archetypaltraditional forms, using every day materials and construction techniques, into an informal and understated but distinctly contemporary aesthetic. One aspect of Brodsky's practice is to recover components such as windows or doors from demolished buildings
and to re-use them in new compositions, thus imbuing them with a new-found significance. His training has resulted in a practice that moves comfortably between the worlds of fine art and architecture. Known throughout Russia for his work as an exponent of so-called 'paper architecture', Brodsky is becoming increasingly noted internationally for his architectural projects and interventions.
The sources that feed into the arresting paintings and engagingly fanciful drawings of Pavel Pepperstein are derived from his investigations into the imagery, symbols and signs of mass culture. A co-founder of the experimental group of artists 'Inspection Medical Hermeneutics' (which adopted a critical position towards the influence of Western culture on Russia), Pepperstein is adept at producing works that are seductively
beautiful but often bitingly poignant. The softly whimsical treatment helps the viewer accept the bizarre marriages that exist between figures, such as characters from Russian fairytales with political cartoons, as does the convincingly consistent staging of his dramas in dream-like wonderlands.
Haim Sokol finds beauty and poignancy in the detritus of modern life. Bartering with migrant workers for tubs and buckets discarded on building sites, Sokol takes these rusty tools and fills them with what he describes as "pictures of Russian life – dilapidated grey walls, dim light, garbage, the realities of a squalid existence and the impossibility of escape". Looking back to the past and Platonov's description of the way people lived after the revolution, the dream to overcome the "nostalgia for the old life" and to build
a new future for the proletariat, Sokol considers the continued impact of progress and unrelenting ambition on the most vulnerable in society.
The intensely personal stories of Leonid Tishkov's past weave in and around the mystical stories and fairy-tale characters that feature prominently in his work. Tishkov trained as a doctor and practised medicine briefly as a specialist in gastroenterology before embarking on a career in art. Tishkov has created a world of images and objects that help him preserve and record the memory and presence of those close to him,
particularly his mother and family members. He wraps these memories in an archive that includes his dreams and impressions of himself as a character swaying in the motion of life. Strange quasi-medical organs appear throughout his work as knitted or stuffed objects, or as described in his comic book graphics, in the form of the 'Dabloids'- weird, red unipeds that inhabit his surreal world.
Stanislav Volyaslovsky's work reflects his interest in sub- rather than popular culture.Combining an original graphic sensibility with a mischievously irreverent approach to society, the artist has produced a variety of textile-based pieces that serve as vehicles for a body of work he has poetically termed 'Chanson Art'. This sing-song mélange ofimages derives from the eclectic worlds of prison tattoos, TV commercials, regular
fiction, crime and pornography. Translated into wall hangings and stuffed pillows stained in 'chifir' (a tea so strong it is infamous among prisoners for its almost hallucinogenic properties) Volyaslovsky's work addresses the impact of the onslaught of overcrowded imagery that assaults our senses and invades our thinking on a constant, daily basis.
In Volyaslovsky's hands, Chanson Art becomes a kind of therapy, an exercise in purging and overcoming.
David Thorp has been the Director of Chisenhale Gallery, The Showroom, the South London Gallery, Curator of Contemporary Projects at the Henry Moore Foundation, International Adjunct Curator PS1 New York and Curator of GSK Contemporary at the Royal Academy of Arts, London for 2008/09. He is Curator of the Frank Cohen Collection and Associate Curator of Platform China, Beijing.
East London art gallery stages its own Russian revolution The Times (Link)
Categories
Tags