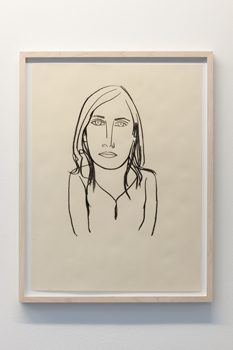 1 When did you start to make art?
I started with "Blind Date" in 1995 in my hometown Split
2 How did you evolve into a professional artist?
. I studied art at the art college in Nuernberg, Munich. I did my MA at Chelsea College of art and design in London in 1998.
3 What drove you to make art as a professional vocation?
There is nothing more exciting than to be able to create something new and to be able to express yourself and your ideas in a visual medium
4 Explain your inspiration?
Already as a teenager I found that the most fulfilling thing to occupy myself with was art.
5 In what way does your inspiration transform into ideas?
When I walk on the street passing people I start to wonder looking in their faces which story is hidden behind
6 From Ideas to production of art – how? And why?
I advertise for people in paper, with flyers but also approach them on the street looking for those ones I might be able to identify with. They are invited to my studio where I get to know them quite well in 2-3 hours depending on how much personal information they are willing to give away. The drawing in the end is a documentation of this interaction. Each drawing contains both, me and the other. The work is about multiple identity, trying to find different layers I can identify with in different people
7 Could your ideas be portrayed in any other medium? If so which?
I use drawing as it is the most direct medium to express thoughts or feelings. But of course other artists who approached the same theme did this in all sorts of different mediums, e.g. the video installation of Tony Oursler
8 Which artists would you most like to blatantly rip off?
Every artist who just produces work for the art market
9 Why is your art made?
As it present our society today. The individual person in our society today is and has to be a multiple identity
10 What does being an artists mean to you?
Having the freedom to express your ideas in the visual medium that fits most to it.
11 Are you happy with your reasons for making art? i.e Are there any trade offs that make life hard?
Yes, I am happy with my personal reasons for my work. It's quite an effort to get people involved in my project, to find them, to arrange a time that fits but as I love my work I don't mind
12 When does your art become successful?
When the portrait represents a sense of the person I drew, the part I could connect myself to.
13 What is art?
Art is visualising ideas, thoughts and feelings.
14 How do you start the process of making work?
First I have to make my choice which person I want to invite in my studio. Then I have to arrange a time that fits for both of us.
15 Who prices your work? And how is the price decided upon?
The price is made in relation to the quality of the work and the CV.
16 What is your next; move,project,show etc?
I am still waiting for the DAAD to confirm if I got the grant to Tokyo and New York. My next show is opening May the 18th at the gallery 18m Galerie fuer Zahlenwerte in Berlin.
17 What are the pros and cons of the art market?
Well, the art market seems to be quite manipulated. But if one is part of it I guess everything is fine.
18 Which pieces would you like to be remembered for?
There are of course drawings that are stronger than other. I hope people visiting Bloomberg space will remember my projection. I would love to have a projection of my drawings at places like Times Square, Oxford Circus…

19 Any routine in making your artwork? If so what?
My work is formally in a way a permanent repetition but every drawing represents another individual.
20 What has been the biggest break in your career?
My solo show at the Essl collection, Klosterneuburg in 2003.
21 Who has been the biggest influence on you?
I guess the German expressionists influenced me quite a lot as a teenager but now I don't feel influenced by a particular artist. I like individual pieces of artists who use all sorts of mediums.

22 How many artworks have you given away and to whom?
My work is mainly in private collections.
Jadranka Kosorcic's last day today at Bloomberg SPACE until 23 May
About Mark Westall