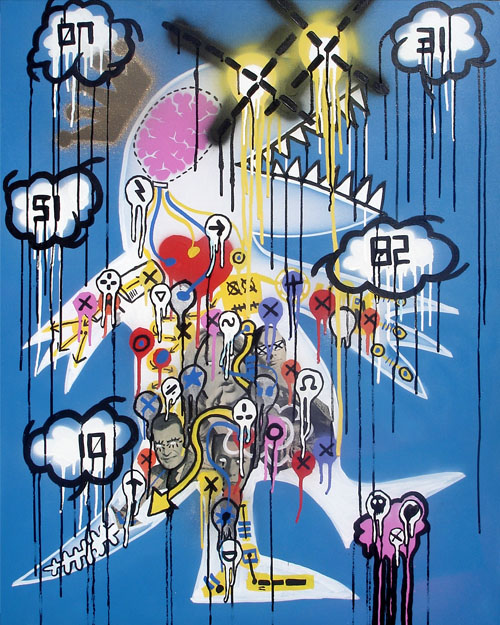 1 When did you start to make art?
I've been drawing and creating art since a very early age- 4 or 5. Drawing has always been the key form of comunication throughout my career, from t-shirt designs to directing storyboards to designing stuff for TV. In terms of making art as a full career move, I only started last August (2008)
2 How did you evolve into a professional artist?
If I'm honest, I think I've always been an artist in denial. I reached a stage with my previous career where I could take the routine and the bullshit no more. I woke up one morning and decided that I wanted to follow my inner calling- to make art, and to try and make a career from it, or to die trying. I got made redundant almost at the same time, and I'd moved out of London just prior to this, so that offered me the opportunity to make a go of it. I simply started painting and making work at a prolific rate. I suppose for me, the point I became professional was when I made my first sale to a private collector just before my first solo show in October 2008
3 What drove you to make art as a professional vocation?
Art- the desire to impress my view of the world to the world has always been a driving force in me. In my previous career I always subverted any professional brief into an excuse to make my own work. You instinctively know what you need to be doing to keep you sane, and for me, it was art. The mental freedom – expression without limits – keeps me sane. Literally. I can get very depressed when I am not allowed the freedom to express myself.
4 Explain your inspiration?
Tricky question. My explanation for this question this week is as follows: When you look at the sun with your eyes closed, you can see strange bits of junk floating around on your eyeballs. I see this junk- objects, sounds, strange lifeforms, everywhere. I feel as if I can see the spaces between objects, and the things that lurk there. This JUNK is visual, aural and cultural. My work tries to express this view. Sometimes it's a tangible and specific object or obsession that grabs me for a period of time (like poodles for example- my current obsession)- sometimes it's more abstract- stuff caught in the periphery of my vision. It's as if I reach this neutral mental state, and it floats out towards me.
5 In what way does your inspiration transform into ideas?
I throw ethereal ideas around in my brain until they start to feel more solid. It's as if each piece I create has a background narrative of its own- for example, lately I've become obsessed with poodles, so I've played with the thought of how they make me feel….I started to imagine a fictional poodle breeder who ends up grafting peoples heads onto dogs to create the ultimate glamour pet. This became a short story and a series of mental vignettes of the world of "Dr Poodle" and his inventions. This narrative eventually leads to a series of statements I want to execute as art.
But equally, sometimes I just start painting without thinking to see what happens.
6 From Ideas to production of art – how? And why?
I don't impose rules on myself when making art- my work tends to be quite animated and dynamic in execution because I want it to feel alive- to squirm off the canvas. In order to do this I use a variety of mixed media and found objects which come together to make pieces which feel as if they are a snapshot of something that is throbbing with life. I work as quickly as possible to stay in this dynamic and ethereal state, and I usually work on more than one piece at once in order to capture what I want to express while it is still fresh in my mind. I like random accidents- dripping paint and spray, the clashing of colours and mediums, as this chaos is at the core of my work.
7 Could your ideas be portrayed in any other medium? If so which?
I am toying with the idea of making some short films to take my world view into another dimension. I trained as an animator and director and this would interest me as a project. I have worked with a lot of special effects and computer animation in my previous career, and I would love to get a good production team together to make some stuff.
8 Which artists would you most like to blatantly rip off?
Erwin Wurm, Phillip Guston, Charlie White, Basquiat , and an (as yet) undiscovered American artist acquaintance of mine Andrew Perry Davis. These are all people whose work has really clicked with me.
9 Why is your art made?
My art is made because I was made.
10 What does being an artists mean to you?
To me, being an artist means having the ultimate freedom but paying the ultimate price for it.
11 Are you happy with your reasons for making art? i.e Are there any trade offs that make life hard?
I have no control over my reasons for making art. It's what I've always done in my life in one form or another- it's a by product of my existence. The trade offs are massive. I have a family, and it's hard to feel free and clear headed when you're not working full time. Financially it's a big pressure. It's also hard to find solid periods of time to work when you have children to look after. This is frustrating and can lead to guilt, which clouds the brain and stops you from functioning. This in turn can get you down. Yes, there are a lot of trade offs.
12 When does your art become successful?
For me, my art becomes successful when it strikes a chord with people- or when someone buys it.
13 What is art?
Art is expression in response to your existence.
14 How do you start the process of making work?
My brain is always "on" so I'm always swilling ideas around in my head. For me the process begins when it feels right- that's not to say that I wander the streets aimlessly waiting for inspiration- I am always finding and acquiring things to put in my work from skips, charity shops and the internet. I'm one of those people who hoards junk and stuff that everyone else sees as useless- obscure old leaflets, strange book covers, scraps of wood and weird packaging. Usually the process starts when I simply have some money to buy materials.
15 Who prices your work? And how is the price decided upon?
I price my work with some input from the galleries I work with. Usually it's based upon what I feel is a fair price for the time I've put into the piece, but sometimes I create something which I find it hard to let go of. When this happens I will raise the price to a point where I'm compelled to let it go. My art is of no value if it's sat at home. I'd rather it was on somebody's wall, so my work is generally priced lower than I would ideally like.
16 What is your next; move,project,show etc?
-I have work in a show at Westbourne Studios, London on the 24th of May
– I'm also doing a live 6 x 12 foot piece at "Upfest " in The Tobacco factory, Bristol on June 6th.
-I have work in a show in san Diego in June too.
-I have friends who are working on putting together a joint show for me at The Maverick gallery on Redchurch St in East London in September.
-but The key thing I'm trying to focus on at this stage is getting a good agent / representation in a London gallery
17 What are the pros and cons of the art market?
It's a load of fickle bollocks. We all know that. Be as tenacious as you can, but beyond that, toss a coin- it's madness.
18 Which pieces would you like to be remembered for?
So far, "Happy Ending machine" , "The Don" and "Wars of Armageddon"
19 Any routine in making your artwork? If so what?
The only routine is waiting for paint to dry. Apart from that, there is NEVER any routine in making my artwork because it is a reaction against routine.

20 What has been the biggest break in your career?
My work now sells alongside pieces by Banksy and Faile, and I've had pieces at the Wilson Williams gallery who are very selective, but for me my biggest break was selling 8 of the 12 paintings in the first 4 hours of the private view of my first solo show in Soho- 2 months after I decided to start painting- it really spurred me on and made me feel that I was doing something right.
21 Who has been the biggest influence on you?
My wife Jane- she spurred me on to take the jump into full time art, and she's an amazing painter herself.
22 How many artworks have you given away and to whom?
I've only given one away to my friend Chris so far, but I'm not averse to trading art for food if it comes to it.
Categories
Tags