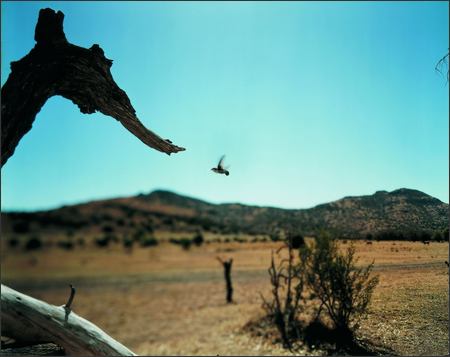 Jean-Luc Mylayne's painterly exposures of solitary birds perched on rough barks of magnanimous trees rouse a distinct feeling of tranquillity within his work. But his perspective is by no means that of a wildlife photographer. His method is to make it seem as if the birds were incidental. However, that is not the case. Sincere dedication and diligence have been employed in the capturing of even the slightest glimpse of these mercurial creatures. A Cardinalis cardinalis is all but cropped-out, only a flash of his crimson plumage is visible. Also discordant with a zoological interest Mylayne frequently uses a slower shutter speed, rendering the bird a flurry of wing movements in front of a distinctly mise-au-point backdrop.
The objective of the images is to inspire a sense of nature's personality. Perhaps at times the tragedies of nature: a bird solemnly averts its eyes from the last apple that has withered on the tree. Even humorous coincidences: a tiny humming bird, apparently without wings, is perfectly aligned with a curled blade of grass that appears to be supporting it in the air. Printed large sometimes one struggles to see the bird at first, and other times there is not one to be found. A black apple slumbers on a soft bed of fallen blossoms, Mylayne connects with how poetry in nature, in a post-Romantic world, can come across as contrived.
The strength of his work lies in his approach to a subject less often tackled in contemporary art, more artists still opt for pop culture and religion as their springboards [see article on Alan Vega's Infinite Mercy. In Mylayne we have an artist who diligently picks his way over such thorny issues and appears to be more interested in capturing a sensation.
In addition to Mylayne's signature photography are oxidised sculptures of crinkled apples, suspended in formation above the gallery floor. In a small booth is a holographic version of the same apple that, in true holographic style, rotates a little as the spectator passes by. This wounded apple in its varying forms seems to resemble iconography of The Sacred Heart. Is Mylayne attempting to address Christianity in these works after all? Reconsidering the exhibitions title Tête d'or* should reinforce this theory.
* Parc de la Tête D'or, beside which Lyon's contemporary art museum resides, takes its name from the myth that a golden head of Christ was buried under its rather empyrean and iridescent peacock-blue lake.
Categories
Tags