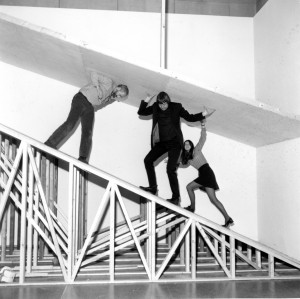 Rober Morris installation at Tate Gallery in 1971 to be re-created as Bodyspacemotionthings in 2009 for UBS Openings: The Long Weekend © Robert Morris
www.tate.org.uk
UBS Openings: The Long Weekend 2009 will transform Tate Modern over the late May bank holiday weekend with a programme of dramatic live events and free, interactive activities. Now in its fourth year, this major arts festival celebrates extraordinary moments of fusion between different art forms such as performance, film, installation and music. Programmed to animate the works included in the annual rehang of Tate Modern, the four-day event attracts over 100,000 visitors each year.
This year's festival is inspired by the opening of a new wing of displays, Energy and Process, which explores Arte Povera, Post Minimalism and their legacy of merging art and life together by using humble, everyday materials and viewer participation. Visitors of all ages will be invited to experience music, film, performance and workshops that illuminate the ideas and spirit behind this art movement and to play a part in iconic art works by renowned artists such as Robert Morris and Michelangelo Pistoletto.
Highlights of the weekend include;
INSTALLATION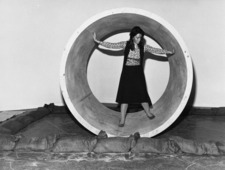 Rober Morris installation at Tate Gallery in 1971 to be re-created as Bodyspacemotionthings in 2009 for UBS Openings: The Long Weekend © Robert Morris
Robert Morris,Bodyspacemotionthings,Turbine Hall; Friday 22 May 10.00 – 22.00,Saturday 23 May 10.00 – 22.00, Sunday 24 May 10.00 – 18.00, Monday 25 May 10.00 – 18.00
Tate Modern's Turbine Hall will be taken over by a reconstruction of Robert Morris's seminal Tate installation. First created for his 1971 show at The Tate Gallery, it was closed down due to the 'unbridled enthusiasm' and 'exceptionally exuberant and energetic participation' it excited in visitors. 38 years later, Robert Morris is working with Tate to recreate this installation especially for UBS Openings: The Long Weekend. Visitors will be able to navigate Bodyspacemotionthings by climbing, see-sawing and sliding around the huge interactive sculptures and objects including beams, tunnels, ramps and rollers.
PERFORMANCE

©Fondazione Pistoletto
Michelangelo Pistoletto; Newspaper Sphere Begins on The Mezzanine Bridge, Level 2, Turbine Hall
Saturday 23rd May, 15.00 – 16.00
One of the key figures of Arte Povera, Michelangelo Pistoletto, will be creating a large sphere out of newspapers from around the world to be paraded through the streets of the City and Southwark. Echoing a similar piece created in Turin between 1966-8, the artist will encourage the public to join the globe of newsprint in a procession across the Millennium Bridge and along the Thames path to Embankment Pier, completing its journey back to Tate by boat.
'1000' a performance piece by Paola Pivi ,Sunday 24 May, 17.00, Turbine Hall Bridge
Adding to the lively atmosphere of the Turbine Hall during the day, a newly commissioned, one-off performance devised by contemporary artist Paola Pivi will form the latest instalment in the artist's characteristically playful, irreverent and sometimes surreal oeuvre. Pivi's work touches upon many of the ideas explored by Arte Povera. As the Arte Povera critic and curator Germano Celant has written, 'Her practice diverts and reorganises the pre-existing relationship between the world and the objects: their new unnatural state of co-existence finds its roots in an enigmatic and magical way of thinking.'
PERFORMANCE/FILM

Jennifer West, Skate the Sky Melon Grab Film,Performance, Friday 22 May,West End, Turbine Hall 19.00 – 20.30 ,Screening, Saturday 23 May, Starr Auditorium, 19.00 – 20.30
Los Angeles-based artist Jennifer West will create a new film live in the gallery by uniting an unlikely mix of ink, film strips and skate-boarding. In this unique event, titled Skate the Sky Melon Grab Film, West will build on her previous experiments with everyday materials such as pepper spray or Axe body cologne used to physically manipulate celluloid. West will stage a performance in the Turbine Hall for which a team of skate-boarders will traverse ink-covered film strips, their wheels scraping into the celluloid and marking their movements in complex and psychedelic patterns. This live event will be followed by a screening of the films created plus a selection of West's earlier films.
And Finally;
FOR FAMILIES AND YOUNG PEOPLE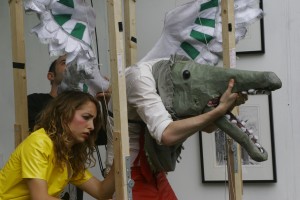 House of Fairy Tales, North Landscape Friday 22 May, 10.00 – 18.00, Riverside, Saturday 23 May,10.00 – 18.00, Riverside, Sunday 24 May, 10.00 – 18.00, Riverside,Monday 25 May, 10.00 – 18.00, Riverside
UBS Openings: The Long Weekend will offer a wide range of free activities for families. The House of Fairy Tales, a child-centred, artist-led project established by Gavin Turk and Deborah Curtis, will host a village fete with a twist. Taking over the lawns in front of Tate Modern, they will offer games, workshops, puppetry and storytelling to children of all ages and their families. The quirky, art-inspired activities will climax in a Maypole made of recycled materials.
Find out even more including Music highlights here:(LINK)
Categories
Tags