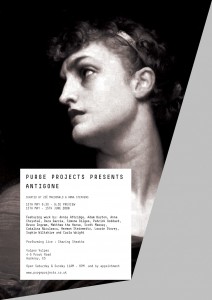 www.purgeprojects.co.uk 15th May – 15th June
Featuring work from: Annie Attridge, Adam Burton, Anna Chrystal, Dora Garcia, Simone Gilges, Patrick Goddard, Matthew the Horse, Bruce Ingram, Scott Massey, Catalina Niculescu, Herman Steinmeitz, Laurie Storey, Sophie Wiltshire and Carla Wright
Curated by Zoë Macdonald and Anna Stephens
The Greek tragedy Antigone is the departure point for this multi-disciplinary exhibition of new work from contemporary artists. Housed in an old tram depot in East London the project uses the unique structure of the semi-industrial space as a set, a gallery and a stage to present work exploring and inspired by Antigone's character, as well as loyalty, struggle, loss, madness and other themes within the play.
In the story Antigone, the daughter of Oedipus and Jocasta, struggles against King Creon for her dead brother's right to a proper burial. Purge Projects is interested in the dual readings of Antigone's character – she appears strong minded, noble and heroic yet on the other hand she is irrational, crazy and somewhat obsessed with this notion of respect for her brother in her quite bizarre and unconventional family.
The exhibition explores the text in an interactive and theatrical way, resulting in a dialogue between the artworks and the nature of performance. Purge Projects incorporates Nietzche's ideas of "Dionysus" as a state of enthusiastic loss of control, lack of reason and sense of ecstasy induced by wine or exemplified in Greek tragedy. The idea is to excite the audience into a "deep frenzy" through music and emotive entertainment in order to arrive at a deeper understanding of human nature.
www.purgeprojects.co.uk
showing in Vulpres Vulpes 4-5 Prout Road Clapton, Hackney London, E5
Categories
Tags