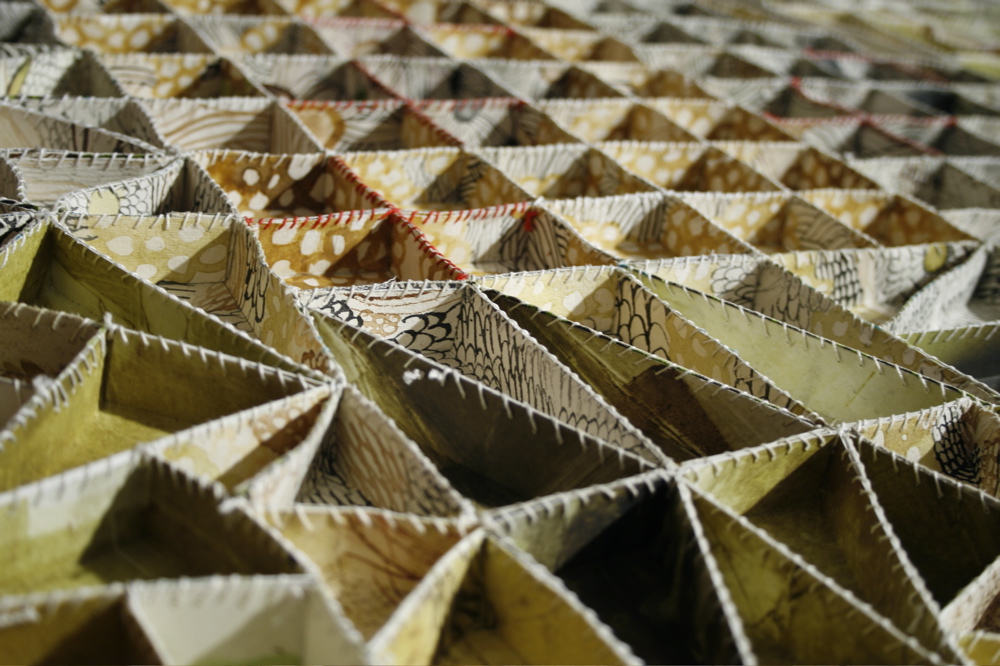 Claire Burbridge is a highly collectable artist, best known for her unique resin works. These sculptures fuse the deep routed human interest in the figurative with a highly contemporary medium, technique and aesthetic. Works such as Monks have an ephemeral, unearthly feel as a result of the use of pigment and clear casting resin, a medium highly receptive to light. Their subjects remain frozen and meditative, as if trapped in time, and invite the viewer to inhabit their world while their anatomical detail compels one to closer inspection.
Another body of work applies the observation of naturally occurring singular patterns along with sequencing such as the Fibonacci and binary codes. Graphite Moon is formed of highly intricate structures made from tessellations of fabriano paper, worked with graphite and backed with felt. While drawing on natural forms, the work also incorporates humanistic and ethnographic influences such as the concept of "Mandala' which refers to circles, connection, wholeness; a model for the organisational structure of life.
This is a rare opportunity to view such a large collection of Burbridge's work exhibited in context in her own home and workspace; the artist will be present to explain the complex processes and ideas involved in the work.
In addition to the main collection, there will be work by Matthew Picton, Bronwen Sleigh and George Charman which explores the nature of the architectural. Picton is to be a future collaborator with Claire Burbridge on a project in 2010.
Open for viewing from 11am to 6pm
Saturday 9th, Sunday 10th, Saturday 16th, Sunday 17th May 2009
16, Denman Road, Peckham, London SE15 5NP
For further details:www.sumarrialunn.com
Categories
Tags