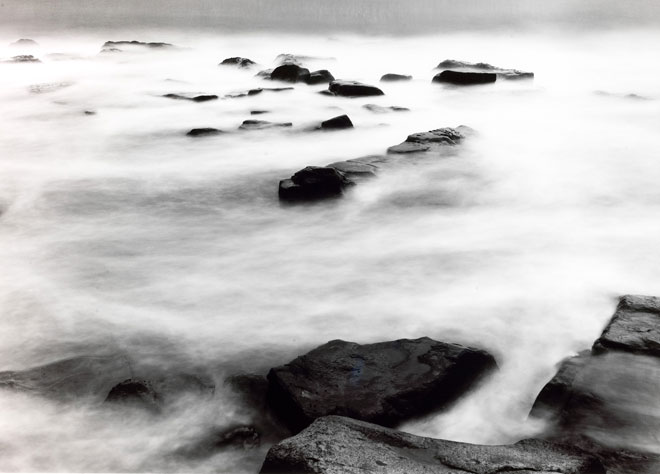 1st – 30th May 2009
The first thing anyone tells you about Thomas Joshua Cooper is about his method. You are told of his dedication to achieving the near impossible task of reaching the outer edges of the world, about his near misses with drowning, kidnapping, being swept away and about the way that he does all of this in order to make just one image of each of his destinations.
Whilst the strength of vision required to drive an artist to the very edges of the world, armed with only an unwieldy 19th century Agfa camera and a local guide is remarkable, what is key is that the work produced should possess it's own power when dissociated from the story of it's creation. That Cooper achieves this is testament to an artist at the height of his powers.
The latest work is composed of images taken during a 2 year journey to the polar regions of the Atlantic basin and forms part of the ongoing series The World's Edge that maps the extremities of the land and islands that surround the Atlantic Ocean. Given the destinations involved it is no surprise that the 79 landscapes that form the exhibition show rocks, ice and water in a variety of combinations. Each image is shot with no reference to the intrusions of humanity, giving them an otherworldly aspect and causing the eye to roam the image in search of familiar shapes.
Working with archaic equipment, Cooper uses the chiaroscuro technique of employing low lighting and long exposure which results in blurred movement and reduces the natural elements of each image to their very essence. Rushing water becomes nothing more than silvery vapour and shining, gossamer strands, whilst rocks and landmasses acquire elemental weight and the darkness of deep waters delivers an icy chill to the viewer.
The power of these understated images lies not in their accurate reflection of the natural world, but in the heightened sensory experience that their crafted delivery provides. Do see this show, but wrap up warm.
Thomas Joshua Cooper Very near The Arctic Circle, The North Atlantic Ocean, Pistilfjardargrunn. Looking towards the Old Lands Hraunhafnartangi, Melrukkasletta Nardur-Pingeyjarsysla, Nordurland Eystra Iceland, 2007-2008. The North-most point of Iceland. 66o 33.087′ N.2007-2008 Gelatin Silver Print Mount: 102 x 137 cm © Thomas Joshua Cooper
Categories
Tags