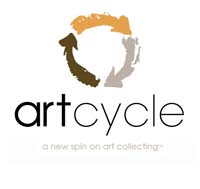 ArtCycle – A New Spin on Art Collecting
ArtCycle is a distinctive and innovative art consignment service.
Based in New York, the center of the art world, ArtCycle features some of the finest works of postwar and contemporary art. Their 'curated' inventory ranges from modern greats such as William Eggleston to contemporary stars such as Tracey Emin, Anselm Reyle and Massimo Vitali.
As a consignment service, they offer a unique environment for art collectors to buy and sell work in a way that is personally and financially rewarding.
They are not an auction house nor are they a traditional gallery. They are collectors, like you, who bring years of expertise coupled with a fresh take on how art should be purchased.
ArtCycle, blend passion for fine art with empathy for the collector,both burgeoning and established. Collecting art is a labour of love, but it's also an investment. ArtCycle ensure both buyer and seller the best possible deal on every transaction, eliminating the hassle of researching the current market.
Other online forums might introduce the buyer to the seller, and then leave you to the negotiations – ArtCycle acts as the agent for the whole transaction. All you have to do is offer the piece you wish to sell or choose the piece you wish to buy. ArtCycle's team will take care of the rest.
More Details HERE
Categories
Tags