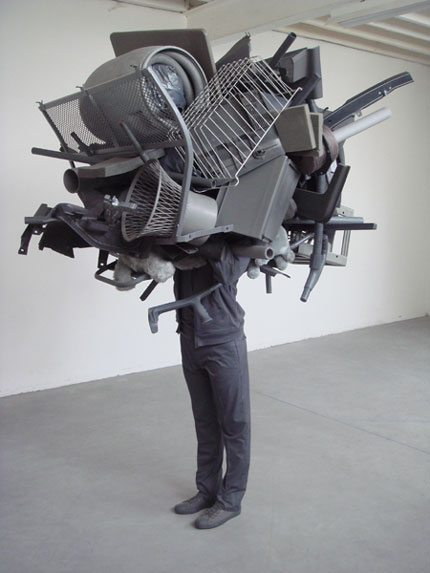 Antique philosophy is at the origin of numerous reflections on the nature of our world as well as the existence of universes parallel to our reality. These thoughts were "materialised" in the concept of infinity – described by the indefinite and complex nature of the physical world – as well as in the suggestion that a constant and eternel movement pre-exists in all things.
The Hidden Land (1) is an invitation to reflect on these theories of multiple worlds and the unidentified zones situated between fiction and reality. Transcending universal understanding, these remarkable theories symbolise acts of intellectual humility as the world is indubitably more vaste and complexe, more unpredictable and colourful, than what our comprehension, here and now, would want to let us know. (2)
The works presented in the exhibition address issues surrounding the spatiotemporal process, questioning our perception of things through varied mediums and materials as well as the idea that each piece is the comprehensive result of an experimental approach. Each work emphasizes the idea that movement is an intrinsic and permanant flux existing in all things, as well as being the sign and measure of space and time.
A close, critical observation of what forms a vivid picture in our everyday world is the starting point for all of Gwenaël Bélanger's projects. His approach, he says « is characterized above all by a "bricoleur" attitude which consists of playing with the limits of the perception we have of reality and its grey areas, using graphic and photographic processes. I want to exploit the interaction between what we see and what we imagine, or what we recall, in the various human activities. » The video "Le Tournis" embodies perfectly this exploratory vision of our day-to-day; it is one of those "machinations of the gaze" through which forgotten or inaccessible visual zones emerge.
"Le Tournis" is a 6 minute looped video showing an interior space (the artist's studio) from a central viewing point. The camera continually revolves on itself, scanning the space at high speed. In this repetitive 360° panorama, an event arises. Progressively, at the top of the screen, a slight sparkling appears. Then something falls. We then identify, gradually, that a multitude of mirrors come crashing to the ground. (3)
Daniel Firman's work stems from the field of sculpture in the broadest sense, considering each piece as an "environment-system". Ideas, forms, as well as scales, signifiers and references meet and dialogue within the work to form unexpected and yet eloquent lectures. This versatility logically leads to the use of diverse mediums and conceptual approaches. The idea of energy and movement is notably at the centre of his preoccupations, expressed through the theme of the fall, his interest in choreography or through the so-called untraceable forms defined by the phenomenon of deflection or stealth technologies. Firman's minimalist, almost scientific, approach to the phenomena and matter surrounding us shows a profound sensorial acuity in the detection of these minute, unstable or unexplored zones where language finds itself reinstated.
Ori Gersht uses the medium of photography to develop specific environments in which the image explores personal and collective memory through geographies and metaphysical spaces – and also reflects on advanced technologies in photography such as freeze-framing actions. Through a filmic trilogy composed of a series of photographs, Gersht addresses what Walter Benjamin called "the optical unconscious", and namely the moments exposed by photography which the eye cannot perceive. Inspired by the frozen aspect of a classical still-life, the series "Falling Bird", evoking a particular painting by Chardin, shows the slow fall of a bird into a dark liquid surface. The long journey, orchestrated by gravity and given rhythm by the camera, underlines the tension created when a body passes from one state to another. Creating a multitude of micro-events, the slow motion and the decomposition of movements thereby intensify the action, triggering chain reactions reminiscent of a geological disaster.
Lori Hersberger's world expresses a technical and sensorial plurality resulting from the experimental exploration of multiple medias and genres. In his spatial works and installations, composed mainly of different materials such as broken mirror and neon light, or other atypical objects such as old carpets or empty barrels, Hersberger addresses issues of the semantic double nature of phenomena. At the end of the 90's, abstract painting appears in his practice, initiated by a free gestural movement and composed strictly of fluorescent day-glo colours, with various techniques such as spray, sponge, dripping or stencilling. This moment is a radical milestone for him whereby a subversive body of work is introduced into his practice. Hersberger uses the processes of construction and deconstruction to create a zone of hybrid forces of individual or personal feelings of freedom and intension, where irony and superfluity, flirtation and antagonism overlap. The presented works on canvas and collages express well this synesthesia of artificiality and authenticity which generates a permanent flux evoking notions of infinity, visibility and intrinsic dynamics.
1) "The Hidden Land" is the name of a sacred region, of extremely difficult access, situated in the Himalayan mountains. It is considered to be one of the most secret places in the world. Even the satellites are unable to show details of this area, which is perpetually covered in mist and shadowed by immense mountains. This area perfectly illustrates the thin line separating reality and fiction and the idea that a fictitious world is only so according to whether we believe in it or not. It is typically the case for this place as the legend says that one must believe in its existence and reach a certain level of spirituality to be able to access it.
(2) See Théodore Bachelet and Louis Charles Dezobry in Dictionnaire général des lettres, des beaux-arts et des sciences morales et politiques, Paris, Delagrave, 1876
(3) Text by Gwenaël Bélanger
Gwenaël Bélanger was born in Rimouski, Quebec in 1975. He lives and works in Montréal (Canada).
Solo show (selection): OEuvres récentes, Galerie Graff, Montréal (2008) ; Poursuivre le hors-champ, Galerie de l'UQAM, Montréal (2008) ; Courir les rues, Optica, Montréal (2006) ; Le Point à la ligne, Galerie Graff, Montréal (2004). Group show (selection) : Décoratif! Décoratif?, traveling exhibition organised by le Musée national des beaux-arts du Québec, Québec (2008) ; La Triennale québécoise – Rien ne se perd, rien ne se crée, tout se transforme, Musée d'art contemporain de Montréal (2008) ; L'oreille dans l'oeil, Centre Clark, Montréal (2007), La Collection : Acquisitions récentes, Musée d'art contemporain de Montréal (2006).
Daniel Firman was born in Bron (France) in 1966. He lives and works in Paris and Lyon (France).
Solo show (selection): Galerie Alain Gutharc, Paris (2009) ; Arte headquarters, in partnership with the FRAC Alsace, Strasbourg (2008) ; Würsa (à 18000 km de la Terre), Palais de Tokyo, Paris (2008) ; Le foulard d'Isidora, French Cultural Center, Milan, Italy (2006) ; Essences insensées, Parcours Saint Germain, boutique Christian Lacroix, Paris (2006). Group show (selection): Château de Tokyo / Palais de Fontainebleau, Fontainebleau (2008) ; Hyères encore – Christian Lacroix with David Dubois, Christian Rizzo, Daniel Firman, Galerie des Galeries, Paris (2007) ; Dérive, Fondation d'entreprise Paul Ricard, curator Mathieu Mercier, nominated for the Ricard Prize 2007, Paris (2007) ; Mutadis, Mutandis, extract from Antoine de Galbert's collection, La Maison Rouge, Paris (2007).
Ori Gersht was born in Tel-Aviv (Israel) in 1967. He lives and works in London (UK).
Solo show (selection): Black Box: Ori Gersht, Hirschhorn Museum & Sculpture Garden, Washington DC (2008); Folding Time, Noga Gallery, Tel Aviv (2008) ; Pomegranate, The Jewish Museum, New York; Time After Time, Mummery + Schnelle, London (2007); The Forest, Tel Aviv Museum, Tel Aviv (2006); The Clearing, Angles Gallery, Santa Monica, USA (2006). Group show (selection): Personal Landscapes: Contemporary Art from Israel, Katzen Arts Centre at American University, Washington DC (2008) ; @60.art.israel.world, Judah L Magnes Museum, Berkley, California (2008); Pomegranate, Tate Britain, London, "Single Shot" commissioned by Film & Video Umbrella and The Film Council, UK (2007); Forest Primeval, MOCA (GA), Atlanta, USATwillight: Photography in the Magic Hour, Victoria & Albert Museum, London (2006).
Lori Hersberger was born in Basel (Switzerland) in 1964. He lives and works in Zurich (Switzerland) and Berlin (Germany).
Solo shows (selection): Galerie Thaddaeus Ropac, Salzburg (2009); Lori Hersberger – Phantom Studies, Musée d'Art Contemporain, Lyon (2008); Phantom Studien, Galerie Mehdi Chouakri, Berlin (2008); Smooth Transition, Galerie Lange & Pult, Zürich (2007); Beautiful Occupation, House of Art, Budweis (2007); Zombie Voyager Nr 1, Galerie Thaddaeus Ropac, Salzburg (2007); Insideout, Galerie Mehdi Chouakri, Berlin (2006). Group show: Neon, Anna Schwartz Gallery, Sydney (2008); Brave Lonesome Cowboy, Kunstmuseum St. Gallen (2007); Une question de génération, Musée d'art Contemporain Lyon (2007); Who Are You?, Galerie Lange & Pult, Zürich (2007); Big City Lab, Art Forum Berlin (2006); Light Art from Artificial Light, ZKM Museum für Neue Kunst Karlsruhe (2005); A Kind of Magic, Museum of Art Lucerne (2005)
NETTIE HORN
25b VYNER STREET | LONDON | E2 9DG | UK
TEL: +44 (0)208 980 1568
DANIELLEHORN@NETTIEHORN.COM
WWW.NETTIEHORN.COM
Categories
Tags