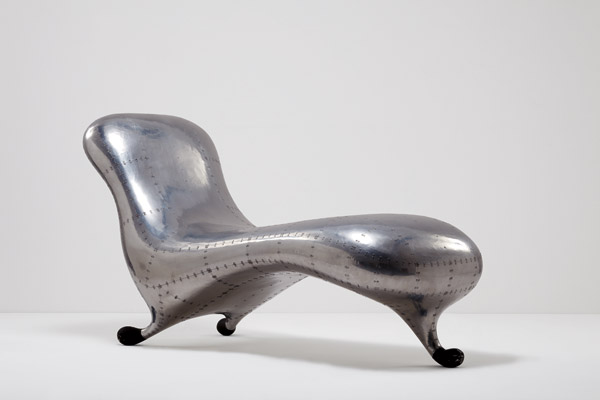 Phillips de Pury & Company is pleased to announce that Marc Newson's seminal work,Lockheed Lounge, 1985 will be offered at Phillips de Pury & Company's London Design sale on April 30. Marc Newson's Lockheed Lounge, LC1, 1985 will be offered with a pre-sale estimate of £500,000 – 700,000.Made from a fiberglass core and riveted sheet aluminum, Lockheed Lounge was entirely hand-crafted by MarcNewson on the advent of his post-graduate career.
The form belies the genesis of his contemporary designvocabulary – aerodynamic fluidity and seamlessness –which would later evolve with the use of computersoftware and state of the art production processes; the execution of the piece retains a hand-hewn andearthly touch.At Sydney College of Arts, Marc Newson studied sculpture, jewelry and furniture design. In 1985, hegraduated with the outlines of a plan: technical materials, futurism. Later that year he began shaping theLockheed Lounge.
His intention had been to cover its fiberglass core with a single sheet of aluminum: "Itried laminating it, but the thing fell apart…eventually, I came up with the idea of beating little pieces of metalinto shape with a wooden mallet and attaching them with rivets."Since first riveting Lockheed Lounge for his 1986 exhibition at Roslyn Oxley Gallery in Sydney, Newson hasreturned continually to the hourglass shape as inspiration for much of his work: Pod Drawers, Embryos andOrgone Lounges. Airplanes, cars and surfboards are metaphors for Newson, their construction andmaterials a common point of departure, but the human torso is as fertile a seed for his imagination.The few examples of this piece, which launched the career of one of today's greatest designers, can befound in key museum collections including the Vitra Design Museum, Weil am Rhein, and the PowerhouseMuseum Sydney, Australia as well as in important private collections.
The example being offered was originally owned by the designer's mother which since 1999 has been in a private collection.Alexander Payne, Worldwide Director of Design:"We are extremely proud to offer this magnificent work by Marc Newson. The design is one of the mostsignificant contributions to the quantum leap that design vocabulary has taken in the last 20 years and thisexample bears exceptional provenance. To offer this piece at this time creates a unique opportunity forbuyers to acquire this most important work."Phillips de Pury & Company has continually driven the auction market for rare and important works bytoday's most important designers and architects in its pioneering Design sales.
The London Design sale in April will present this highly significant work by Marc Newson along with other pioneers in contemporarydesign including Atelier van Lieshout, Maarten Baas, Jeroen Verhoeven, Ron Arad and Zaha Hadid. Auction April 30, 2 pmViewing April 20 – 30, 10 am – 5 pmPhillips de Pury & CompanyHowick PlaceLondon SW1P 1BB www.phillipsdepury.com
Categories
Tags