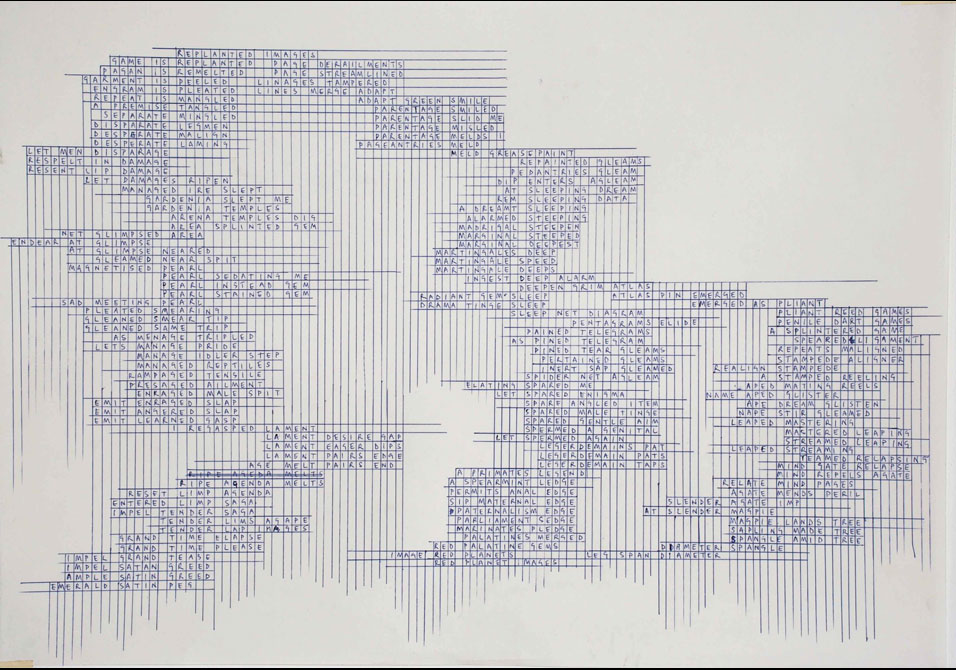 Anna Barham, Replanted images 2008. Courtesy of the artist. Copyright: the artist
Stutter, the latest exhibition in Tate Modern's Level 2 programme, explores the themes of disruption and discontinuity within processes of thought and language.
The group show features works by international contemporary artists Sven Augustijnen, Anna Barham, Dominique Petitgand, Michael Riedel, Will Stuart and Michelangelo Pistoletto and includes a wide range of media, ranging from sculpture, work on paper and video, to performance and sound.
The exhibition's title, Stutter, comes from the onomatopoetic word for an interrupted act of speech.
Level 2 is Tate Modern's space for emerging artists, dedicated to experiment and the latest ideas, themes and trends in international contemporary art.
Sven Augustijnen's films Johan and Francois 2001 are intimate portraits of people suffering from aphasia, the loss of the ability to produce or comprehend language. Augustijnen's skilfully edited documentaries gradually reveal the thoughts and memories of the patients and allow the viewer to access a world that is shaped by the experience of fragmentation and degradation.
The centrepiece of Anna Barham's contribution to Stutter is a sculpture comprised of fluorescent tubes, orchestrated by computer codes. Creating an infinite number of flickering pulses, A Splintered Game 2008 manipulates ideas of geometry, structures and combinations as a way to illustrate and reveal thought processes. The installation is surrounded by seven of Barham's drawings that show her interest in the potential of words and anagrams to create elaborate forms and to trigger images and narratives in the viewer's imagination.
In a new spatial configuration, Dominique Petitgand presents Someone on the ground 2005-2006, where recordings of words, pauses, breaths and noise merge into layers of voice and sound, structured by break ups and cuts. Played back from various spaces in the gallery, this installation takes place alongside and simultaneous to other works in the exhibition, overarching and setting them in relation, creating tensions between speech and noise, figuration and abstraction.
Will Stuart (Will Holder and Stuart Bailey) present one of Michelangelo Pistoletto's Minus Objects from 1966, Structure for talking while standing. They challenge Pistoletto's artwork through accompanying texts, exploring the use and significance of Pistoletto's piece within the context of both the exhibition and Will Stuart's intervention.
Michael Riedel presents an entirely new work, which arises out of an array of gaps, elisions and errors. These result from a complex process of editing video footage of film screenings, recorded over a period of many months, into a frenetic trailer lasting just eight minutes.
The exhibition is curated by Nicholas Cullinan and Vanessa Desclaux. Via (ArtDaily)
Categories
Tags