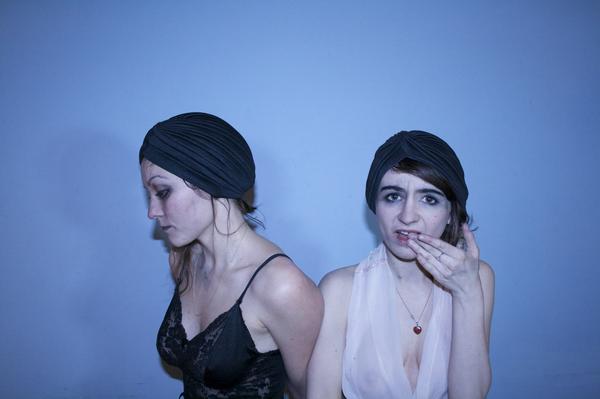 Constantinoplex – Babushka, 2009
"Modern morality and manners suppress all natural instincts, keep people ignorant of the facts of nature and make them fighting drunk on bogey tales" Alister Crowley
Constantinoplex, performance art duo, considers Crowley's viewpoint on instinctive behavior in opposition with expected behavior to be a central motivation behind their work.
Their performances involve ritualistic, almost tribal methods to create the crucial sound element. Setting an aural backdrop initiates the subsequent performances and strongly influences the appearances and personages the artists employ for each piece.
Constantinoplex concentrate on evoking the altered state the artists have had to reach in order to produce the work. The internal experience is then let loose upon the audience; responses witnessed have included involuntary tears and loss of equilibrium.
Intrigued by uncertain environments Constantinoplex succeeds in creating an atmosphere, that plunges their audience into temporary and unfamiliar surroundings. The audience is driven, by tumultuous sounds, continuous rapid beats toward a crescendo of sounds and activity before an abrupt ending. Constantinoplex have described their performances as "emulating other short-lived entities in life" whirring into a frenzy before being obliterated.
In their piece The Fisherman's Wife's Dream, at the somewhat unwitting Menier Chocolate factory, ceramic pots seemed to shatter under the immense pressure of sound and the very intensity in the air; sending splinters of shells and seeds across the gallery floor.
Constantinoplex's strike back to ancient rituals transcends and disregards social constructs. Bold, and at times absurd the frissons that accumulate are magnificent to behold. The moments when the performances are most deranged dare the audience to share exhilaration combined with fear. And they can but observe, utterly captivated.
——————-
Constantinoplex is Romy Northover and Keira Fox. With regular performances in London and the UK this year they are continually expanding their pan European network, following last years performance in Madrid with a show in Berlin this June.
http://profile.myspace.com/constantinoplex
Schedule:
April 15th – The Pictures – London www.thepicturesnight , www.bardensbar.co.uk
May 13th – Brave Exhibitions – London www.myspace.com/braveexhibitions
May TBC – Croc Madamme v Croc Monsieur (the organisation) – Glasgow www.myspace.com/crocmadame
June TBC – NEU Galleries – London www.neugalleries.com
June TBC – Chamber – London www.myspace.com/thisischamber
Categories
Tags