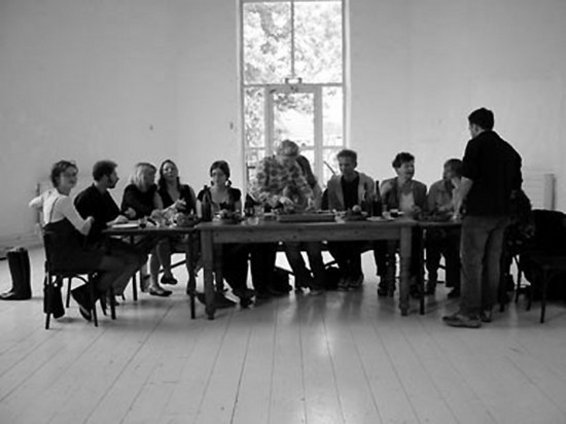 www.davidrobertsartfoundation.com
A performance by Raúl Ortega Ayala launching the exhibition At Your Service.
Arrive early for your chance to be one of the 12 dinner guests and join in the meal! Participants will be seated by 6.30pm, the performance will commence at 7pm.
'Last Supper' is a performative work by Mexican artist Raúl Ortega Ayala based on the research of food historian Daniel Rogov. Ortega Ayala meticulously recreates the 'original' meal served during the Last Supper and its surrounding rituals as allegedly experienced by the Twelve Apostles and Christ.
Following this historical and academic research, which reviews the traditions of Judaism, the cooking utensils and the ingredients available at the time, Ortega Ayala's performance turns the gallery into an experience of uncanny time travel.
Ortega Ayala himself cooks the Last Supper after mapping where the ingredients could be found in the local area. The artist is not only the investigator of an artistic situation; more importantly he is the food provider for a ritualized reconstruction of a sacred event, which he then turns into a secular, almost mundane service.
This event will take place on the 6th of April and 12 members of the public will be invited to take part in the performance, which will be filmed and documented for the At Your Service exhibition where, the video together with remnants of the meal, will be displayed with the recipes and a map of where the ingredients can be found in London.
The performance launches the exhibition At Your Service.
Produced in collaboration with Rokeby. www.rokebygallery.com
About Mark Westall