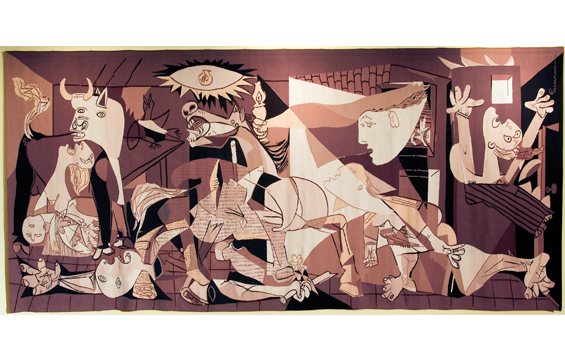 Forming Part of the Whitechapel Opening Weekend
London-based Polish artist Goshka Macuga is widely acclaimed for her sculptural installations of artefacts and photographs, derived from art history, politics and anthropology. The artist focuses on a key moment in the history of the Whitechapel Gallery: the presentation of Picasso's Guernica in 1939.
Organised in collaboration with the Stepney Trade Union Council in east London to raise awareness of the Spanish Civil War, the suggested price of entry was a pair of boots, left underneath the work, to be sent to the Republicans in Spain. Forming the centrepiece of Macuga's installation is a life-size tapestry of Guernica.
Commissioned by Nelson Rockefeller in 1955 it was created, in collaboration with Picasso, by weaver Jacqueline de la Baume Dürrbach, of the great Dürrbach Atelier in Paris. In 1985, the Rockefeller Estate lent the tapestry to the United Nations Headquarters in New York, to offer a deterrent to war. It has hung ever since outside the United Nations Security Council.
Macuga's project draws connections across historic and contemporary world affairs, their protagonists and the cultural ripple effects they have triggered. Evolving throughout the year, this major new commission intertwines narratives and constellations of objects to demonstrate the profound relation between aesthetics and politics.
Categories
Tags