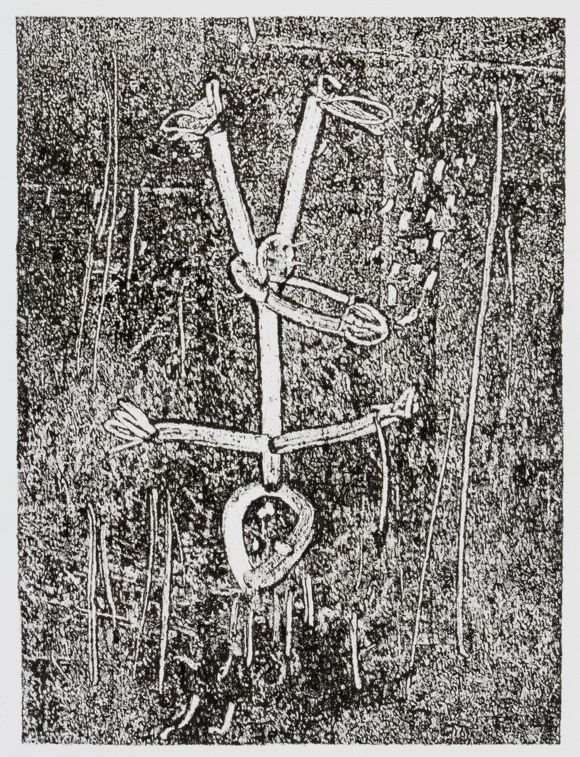 4 April – 10 May 2009 (Gallery closed for Easter break 10 -13 April inc.)
"The only way to avoid the horror of horror is to give in to it." Jean Genet
Genet expressed the common desires of artists and criminals. He understood how these common urges coexist in all sections of society. We only have to witness the work of anonymous poets and artists that adorns the walls of the public/private spaces such as pub toilets, park benches or prison cells, to realise our repressed desire to give into this horror.
Alan Brooks has made a fantastic new series of highly detailed paintings on paper and copper taken from images found in public lavatories and pub toilets. He photographs or takes rubbings from the tiny articulations that he chances upon and takes them back to his studio where he recreates these images in painstaking detail, right down to the hairs caught on the lens of the camera or dust on the wall. Using the traditional materials of a master craftsman, oil on copper and watercolour or ink on paper, Brooks transforms these hastily scribbled moments of deranged passion into objects of desire, each taking many months of labour. The crude imagery, at odds with their refined means of production only accentuates the accidental art references that draw Brooks to certain graffiti. Baselitz, Picasso, Penck, Wols, there is a timeless quality to these new works that since man first drew on the wall of his cave, permeates our desire to articulate our own baseness to fellow man.
Since studying at the Slade in the early nineties Brooks has had a number of Solo shows including Mobile Home Gallery, London; Percy Miller Gallery, London; Galerie Albrecht, Munich, Germany and Marlene Eleini Gallery, London. His work has been included in numerous exhibitions and prizes including; John Moores 20, 21 & 24, Walker Art Gallery, Liverpool; Paul Morris Gallery, New York, USA; EAST International, Norwich; Oriel Mostyn Open, Oriel Mostyn Gallery, Llandudno, Wales; and the Jerwood Painting Prize, Jerwood Gallery, London. Brooks showed alongside Dan Rees at MOT International in 2008, since which his work has become part of major collections in London, Germany and New York. His drawings are to be included in the forthcoming exhibition and publication, The Power of Paper at the Saatchi Gallery.
About Mark Westall