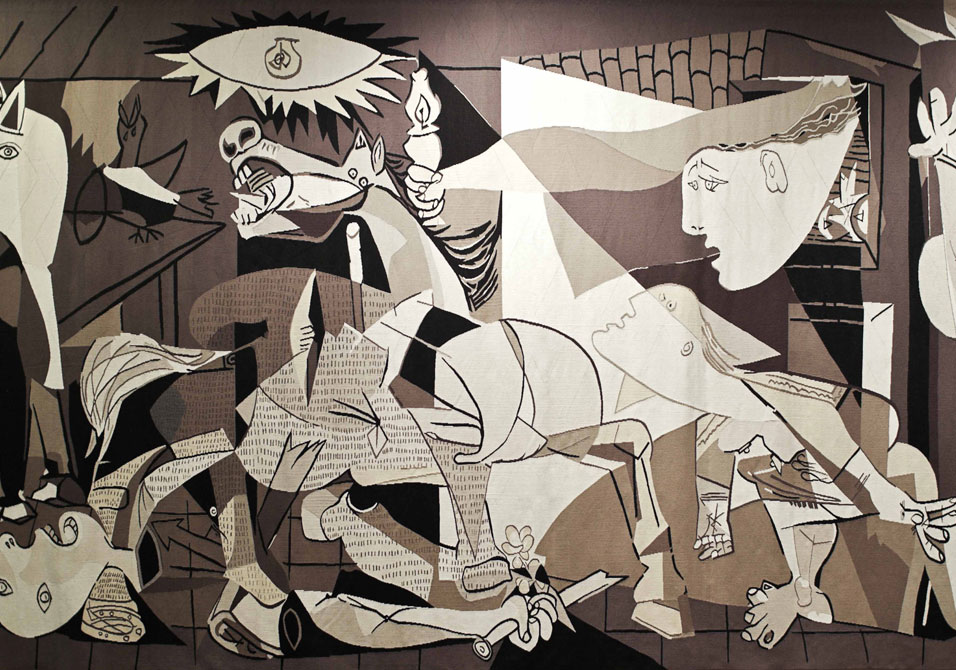 After Pablo Picasso, woven by Mme J de la Baume Dürrbach, The Guernica Tapestry, 1955, Wool, 305 x 671 cm. Collection of Mrs Nelson A. Rockefeller. Photo: George Kotsovos © Succession Picasso/DACS 2009.
The Bloomberg Commission launches with Goshka Macuga, who has created a new site specific artwork focusing on a key moment in the history of the Whitechapel Gallery: the presentation of Picasso's Guernica in 1939.
London-based Polish artist Goshka Macuga is widely acclaimed for her sculptural installations of artefacts and images, derived from art history, politics and anthropology. 2008 Turner Prize nominated Macuga has extensively researched the circumstances surrounding the great Spanish Civil War painting's presentation, and traced its evolving significance as a political icon since it was painted in 1938.
The Whitechapel Gallery's exhibition of Guernica in 1939 was organised in collaboration with the Stepney Trade Union Council in east London to raise awareness of the Spanish Civil War; the suggested price of entry was a pair of boots, left underneath the work, to be sent to the Republicans in Spain. While on show at the Whitechapel Gallery the painting acted as a focal point for a number of speeches and rallies, and Clement Attlee, MP for Limehouse and leader of the Labour Party, made the opening speech.
Forming the centrepiece of her commission, Macuga has chosen to include a life-size tapestry of Guernica, which has a parallel but related history. Commissioned by Nelson Rockefeller in 1955 it was created, in collaboration with Picasso, by weaver Jacqueline de la Baume Dürrbach, of the great Dürrbach Atelier in Paris. In 1985, the Rockefeller Estate lent the tapestry to the United Nations Headquarters in New York, to offer a deterrent to war. It has hung ever since outside the United Nations Security Council.
Letters, photographs, interviews and news clippings relating to Guernica's presentation at the Whitechapel Gallery will be brought together by the artist in an archival display, shown alongside Iraqi and Afghan war rugs. Macuga is also creating a life-size portrait of former US Secretary of State Colin Powell, in a Cubist manner, in reference to Picasso's radical invention of this fractured style and to Powell's role as a spokesperson for the Bush administration: his infamous speech that launched the war in Iraq was held at the United Nations Security Council in 2003.
Goshka Macuga said, 'I am fascinated by the Guernica and it's presentation at the Whitechapel Gallery. The reasons for its presence were primarily political and financial: to spread awareness of Facism and unite the working classes in a communist spirit. Crucially the memory of this mythical occasion survives largely through a photograph of Clement Atlee with Guernica as the backdrop.'
Goshka Macuga's commission will explore the relationship between art and propaganda, and draw connections across historic and contemporary world affairs, their protagonists and the cultural ripple effects they have triggered. A programme of documentaries, talks and events will also be running throughout the exhibition, to explore the relationship between aesthetics and politics.
The Bloomberg Commission invites an international artist to create a year-long site-specific artwork inspired by the rich history of the former library in which it is sited. Bloomberg's support reflects its commitment to innovation, and its ongoing efforts to expand access to art, science and the humanities.
As a leading global financial information services company that has made its mark by championing innovation, Bloomberg is deeply committed to education and creativity, and to expanding access to art, science and the humanities. Through support of educational and cultural institutions worldwide, Bloomberg fosters a broad range of creative initiatives – from exhibitions and audio tour programmes to student fellowships and public art installations – that promote public awareness and appreciation of the arts.
Born in 1967 in Poland, Goshka Macuga currently lives and works in London. She studied at Wojciech Gerson School of Art, Warsaw before moving to the UK to study at Central Saint Martins School of Art, London and Goldsmiths College, London. Her solo exhibitions include Galerii Foksal, Warsaw and Transmission Gallery, Glasgow, 2002; Gasworks, London, 2003; Sleep of Ulro, The Furnace Commission, A Foundation, Liverpool, 2006; Objects in Relation, Art Now, Tate Britain, 2007; and Kunsthalle Basel, in Spring 2009. Among her group exhibitions are The British Art Show, touring the UK in 2005 and 2006; 27th São Paulo Biennial, Sao Paulo, 2006; 5th Berlin Biennial, Neue Nationalgaleries, Berlin, and The Great Transformation: Art and Tactical Magic, Frankfurter Kunstverein and touring, both 2008. In 2008 Goshka Macuga was also nominated for the Turner Prize. She is included in the 2009 Venice Biennale.
The Bloomberg Commission: Goshka Macuga is curated by Anthony Spira, Curator, Whitechapel Gallery.
Categories
Tags