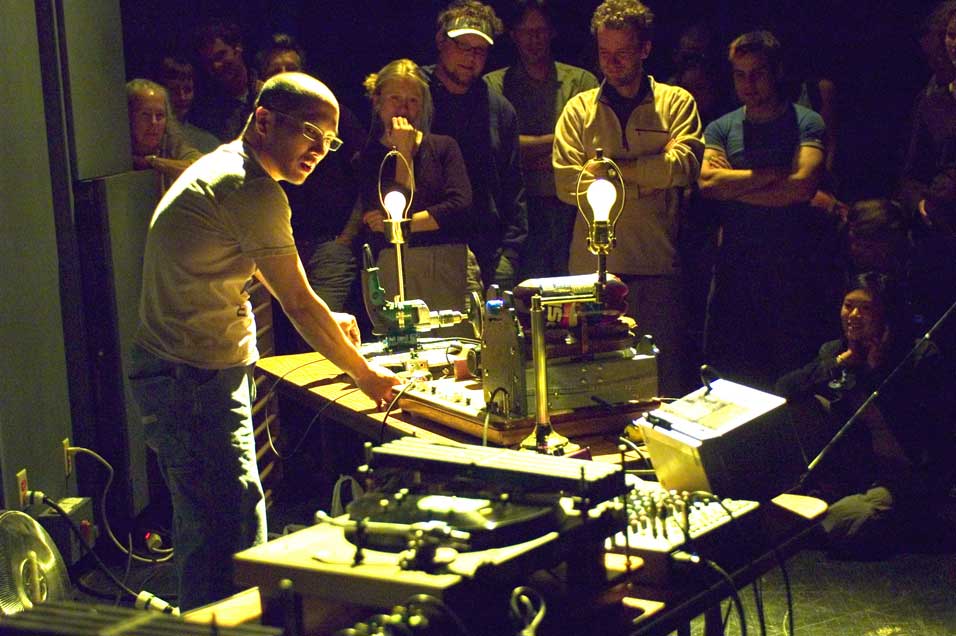 The Hayward Project Space succumbs to a cacophony of unusual noises as it hosts a new exhibition by Southbank Centre Artist in Residence Ujino. Ugly Knitting is part art installation, part performance and part musical chorus.
Ujino (b. 1964, Tokyo) is a renowned Tokyo-based sculptor and musician who founded The Rotators in 2003, a 'band' whose members consist of ordinary household appliances. Each of these 'musicians' are connected to the 'Rotatorhead', a unit created from a specially adapted DJ's mixing desk that Ujino has programmed to automatically control all The Rotators' components. The permanent members of The Rotators are: a blender, for its heavy, low frequency sounds – like a punchy kick drum; the drill, for its snappy, tight snare drum sound; and the hairdryer, which resembles a fuzzy bass and also doubles as 'vocals'.
For this exhibition at The Hayward Project Space, Ujino is transforming the space into his workshop, continuously welcoming 'new band members' from London during his stay at The Southbank Centre as Hamlyn Artist in Residence. During the exhibition's run, Ujino and The Rotators will give several public performances as part of Southbank Centre's Ether '09 Festival of Art and Technology with all performances taking place on the Festival Terrace.
The Rotators also feature in Ujino's Sherbet Dab Swivel, a temporary outdoor sculpture installed on Festival Terrace until 24 April and active from 10am to 10pm every day. Taking part of its title from Cockney rhyming slang, this new work is inspired by London's iconic taxicabs and the city's equestrian statues. These are metamorphosed – like a Transformer toy – into a twenty-first monument to urban transport, complete with flashing lights and intermittent sounds.
Categories
Tags